Johns Hopkins University's Advanced Academic Programs division recently recognized 10 faculty members with Excellence in Teaching awards for their exceptional effort and immeasurable impact on students during the 2022-2023 academic year.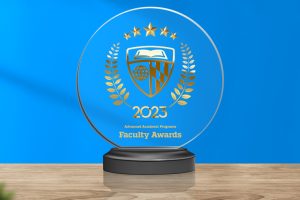 This year's Excellence in Teaching award winners were lauded for their commitment to teaching, attentiveness to student needs, innovative teaching methods, and other actions and efforts that enhance the student experience. In addition, one faculty member received a Distinguished Professional Achievement Award recognizing the publication of a textbook she authored.
By program, those receiving awards were:
Cultural Heritage Management
The MA in Cultural Heritage Management program awarded its Excellence in Teaching award to Francis P. McManamon, who students this year recognized as the faculty member with the greatest impact on their learning and who has demonstrated exceptional commitment to teaching and the field.
McManamon brings to his teaching deep knowledge and experience. In addition to his work as an instructor, he was the executive and founding director of the Center for Digital Antiquity and has been chief archaeologist of the National Park Service and the departmental consulting archaeologist of the Department of the Interior.
Data Analytics and Policy
Sanghoon Kim-Leffingwell received the Excellence in Teaching award for the MS in Data Analytics and Policy program. Faculty and students recognized Kim-Leffingwell as an attentive and responsive instructor who works closely with students and exceeds expectations to provide an outstanding course experience. He also developed a new course this year on fundamental mathematics for data science, a critical addition to the curriculum.
Environmental Sciences and Policy
Nathaniel "Pete" Winstead received the MS in Environmental Sciences and Policy program's Excellence in Teaching Award. Winstead has taught Climate Dynamics and Oceanic and Atmospheric Processes online and onsite for JHU's ESP students. When he is not teaching for ESP, he is the principal staff scientist at the Johns Hopkins University Applied Physics Laboratory, where his career spans the past 20 years.
Geographic Information Systems
The MS in Geographic Information Systems program awarded its Excellence in Teaching Award to Orhun Aydin. Aydin has taught with AAP for more than five years and has been involved in curricular development, focusing on geospatial statistical methods, machine learning concepts in geostatistics, and R programming. His extensive knowledge, vast research and industry experience, and passion for teaching earned him the award.
Global Security Studies
The MA in Global Security Studies program awarded its Excellence in Teaching Award to Kimberley Thachuk. Students and faculty colleagues nominated Thachuk for her ongoing efforts to develop innovative assessments in her courses and her sustained commitment to her students, demonstrated by her dedication to providing them with timely and detailed feedback.
Museum Studies
Recognized as the faculty member students feel has most strongly impacted their learning throughout the academic year and for her commitment to teaching and the field, Elizabeth Baird received the Excellence in Teaching award for the MA in Museum Studies program.
Baird is president and chief executive officer of the North Carolina Aquarium Society and previously served as director of the North Carolina Aquarium at Pine Knoll Shores. Before that, Baird was the chief of school and lifelong education at the North Carolina Museum of Natural Sciences. Baird has been teaching Introduction to Museum Education in the program since 2017.
Nonprofit Management
The MA in Nonprofit Management program awarded Carlos Ponce its Excellence in Teaching Award.
Ponce joined Johns Hopkins as a Nonprofit Management adjunct faculty member in 2020 and redeveloped one of the program's core courses, Institutional Fundraising: Raising Maximum Dollars from Government Agencies, Corporations, and Foundations. He also developed and teaches Principles of Nonprofit Law and Compliance Management, a new summer elective for 2023. In addition to his role at Johns Hopkins, Ponce is a senior lecturer in the Columbia University SPS Nonprofit Management program. He previously was a lecturer at Northeastern University and brings to his teaching extensive work experience with national and international organizations.
Science Writing
Bill Gourgey received the MA in Science Writing program's Excellence in Teaching Award.
A former managing partner at a Fortune 500 tech company, Gourgey ventured into the world of science and tech writing—and then into teaching writing. His writing expertise and deep trove of tech knowledge inform his instruction in a variety of courses. Students commend Gourgey for his insightful and eloquent feedback and note his talent for connecting with students who, like him, come from science or engineering backgrounds.
Writing
Recognized for a long career in teaching, Edward Perlman received the MA in Writing program's Excellence in Teaching Award. Perlman, who is retiring, has taught at Johns Hopkins with distinction for 25 years, including teaching the Thesis & Publication class for a decade. He has taught in the Science Writing program, the Teaching Writing program, and the Writing program and has been an informal poetry adviser for Science Writing.
Distinguished Professional Achievement
AAP awarded the Distinguished Professional Achievement Award to Jamie Zvirzdin, a lecturer in the MA in Writing program.
After hearing feedback from students that her Subatomic Writing course was wonderful but contained an overwhelming volume of content, Zvirzdin developed a solution, writing a textbook. Subatomic Writing: Six Fundamental Lessons to Make Language Matter was published by Johns Hopkins University Press in February 2023 and bestselling science writer Mary Roach called it "a quirky, marvelously helpful, relentlessly readable guide to effective science communication." The book caps off Zvirdin's long, successful career as a science editor, essayist, and columnist.
AAP also recently announced its Student Awards for exceptional work for the 2022-2023 academic year.