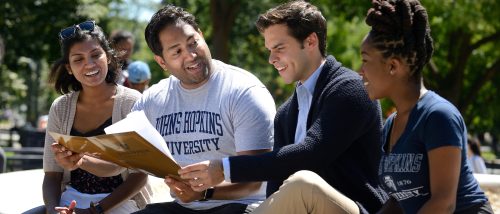 Get a distinguished Johns Hopkins education in a flexible format that works with your schedule. Our graduate degrees cover in-demand fields of study and are designed to help you achieve your career vision.
Here to Help You Achieve Your Goals
Whether you come to Johns Hopkins for professional advancement or personal enrichment, you are embarking on a journey to reach a new level. Our programs are designed to equip you with tools and experience to take on whatever is next for you.
Flexibility and Convenience
You can take classes online, at one of our campus locations in Washington, D.C., or in Baltimore, MD, or both. AAP offers a number of programs you can complete fully online.
Academic Excellence
Our programs deliver the excellence you'd expect from Johns Hopkins University, whether you enroll part-time or full-time. You will study with the world-class faculty who are experts and practitioners in their fields. In addition, as most of our students are employed while attending classes, you'll get to learn from and collaborate with a diverse group of professionals.


Ready to Advance?
Whether you are looking to take your career to the next level or make an exciting career change, the Johns Hopkins Advanced Academic Programs division offers a flexible and professional education to help you achieve your goals.