Program Chair for Environmental Sciences and Policy and Geographic Information Systems, Dr. Thomas Haine, has completed co-authorship of a new textbook, Ocean Circulation in Three Dimensions. The book will be published by Cambridge University Press.
About the Book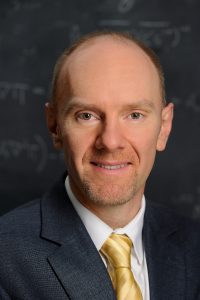 Notable advances of the last quarter-century have deepened our appreciation of the three-dimensional nature of the ocean's large-scale circulation. This circulation has important implications for ocean chemistry and biology, atmospheric science, and climate. Ocean Circulation in Three Dimensions surveys both observations and theories of the time-mean circulation, enabling readers to see the relevance and limitations of leading theories, as well as the patterns linking the behavior of different oceans.
The book covers "classical" topics of horizontal circulation and expands them to include shallow wind-driven overturning, the deep global "conveyer belt", high latitudes, the role of eddies, and the ocean's role in heat transport. Solutions to exercises are available online for instructor use. This textbook is ideal for students of physical oceanography, chemical oceanography, and climate. It is also suitable for readers from related fields as it includes a summary of introductory topics.