Faculty, students, and alumni of Johns Hopkins University's MS in Geographic Information Systems program are using their specialized skills as part of the global response to recent earthquakes in Turkey and Syria. Through the Humanitarian OpenStreetMap Team platform, GIS program volunteers from within the Advanced Academic Programs division have helped provide updated basemap information used by emergency responders on the ground, says Program Director Cassandra Hansen, who, along with GIS Associate Program Director Geri Miller, is coordinating the AAP group's work.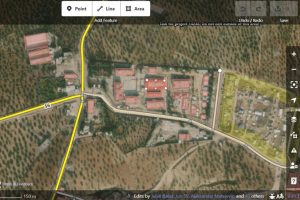 As part of this effort, volunteers accept and complete mapping tasks that give first responders an updated look at the placement of buildings and roads. As the events unfolded in Turkey and Syria, a JHU GIS graduate contacted Hansen and suggested joining the international endeavor. Hansen, who had engaged in similar efforts following earthquakes in Haiti and Nepal, reached out to students and alumni of the program. "I immediately heard back from people who were interested in helping," she says.
At an initial Zoom meeting, the AAP group—which now includes about 15 faculty, students, and alumni—selected a specific area of focus within Turkey and discussed how to tackle tasks posted by the Humanitarian OpenStreetMap Team. "Within 15 hours of the earthquake there were two mapping projects created for Turkey and volunteers started taking projects to work on," says Hansen.
In the days that followed, as more tasks were added to the platform, including in Syria, AAP volunteers joined their GIS peers from around the world to update maps by drawing or digitizing building footprints and roads. "You can help verify the data using aerial images taken prior to the earthquake, for example and then draw or digitize buildings and roads that are visible on the aerial images," Hansen explains. The updated information is reviewed by others before being uploaded to GPS tools and basemaps used by first responders. Using the updated maps, rescuers can see how big a building was, how many people might have been in the building, and which roads they can use to get there, Hansen says.
For AAP GIS student Marko Zlatic, mapping infrastructure in Turkey and Syria as a volunteer has been extremely rewarding. "Being able to apply my professional skills toward assisting with a humanitarian effort has been a wonderful and practical experience," says Zlatic.
The Humanitarian OpenStreetMap Team has multiple projects underway worldwide and volunteers from around the world contribute their GIS skills in a variety of ways. "There is an opportunity to volunteer at any point in time, but when there's a disaster like this the community can really step in and provide their geospatial talent," says Hansen.
Image Credit: Humanitarian OpenStreetMap Team