Osher Lifelong Learning Institute & Community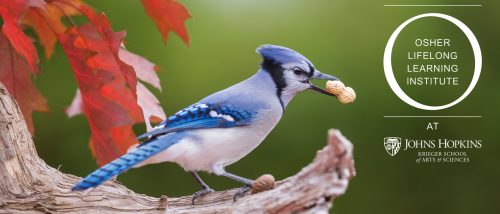 Osher at JHU celebrates more than 35 years of offering intellectually stimulating courses and educational programs. Expand your academic horizons in retirement with our community of lifelong learners supported by Johns Hopkins University and the Bernard Osher Foundation.
Make a Donation
Support from Osher members and friends provides scholarship assistance, funds for expanded programming, and other special projects.
The Journal
The digital editions of "The Journal" are now available. Enjoy the new stories and learn about our community members' experiences. And you can learn how to submit your own creative content for consideration in the next edition.
Your Osher Community
Osher at JHU is a membership community providing a vibrant educational and social environment for mature adults. The Institute offers a rich array of stimulating courses, lectures, and activities, along with opportunities for social interaction during fall and spring semesters.
The Osher courses and lectures are offered during the day. Our programs are non-credit, delivered in a wide array of formats and locations. There are no entrance requirements, no tests, and no grades, just learning for the sake of learning.
Thanks to the generosity of The Bernard Osher Foundation, the network of Osher Lifelong Learning Institutes across the United States is meeting the needs of older learners who want to learn simply for the joy of learning and personal fulfillment.
Fall 2023 Preview
Osher Lifelong Learning Institute
Location
Baltimore-Columbia
9325 Presbyterian Cir.
Columbia, MD 21045
410-516-9719
Montgomery County
325 Ellington Blvd. #209
Gaithersburg, MD 20878
301-294-7058