Why You Should Consider a Career in Data Analytics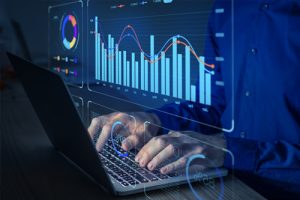 In today's data-driven world, the demand for skilled professionals is on the rise, giving anyone interested in a career in data analytics a variety of pathways to advance in their field or break into a new one. For highly skilled data analytics professionals, such growth offers an opportunity to contribute to organizations large and small across many industries and fields.
Read on to learn why pursuing a data analytics career path may be the right choice for you, the skills you will need to succeed, and where you can develop those skills.
According to the U.S. Bureau of Labor Statistics, employment of data scientists is projected to grow 36% from 2021 to 2031, no surprise given the value data analysts can bring to organizations.
"Data analysts can support policymaking, marketing, business intelligence, operations management, program evaluation, strategic planning, product development, and many other aspects of enterprise-level decision-making," says Collin Paschall, Program Director for the MS in Data Analytics and Policy program at Johns Hopkins University's Advanced Academic Programs division. "With their increasing power and ease of use, modern data analytic tools can help further almost any organization's mission and help solve almost any problem imaginable."
By analyzing data, organizations can identify patterns, trends, and outliers they may not have identified through other means, allowing for better decision-making, risk management, and efficiency. In addition, businesses can use pattern and trend analysis to craft a narrative and innovate. For example, analyzing data on customer behavior can help businesses create a more positive customer experience.
What Does a Data Analytics Career Path Entail?
Understanding Key Skills and Technologies
A successful career in data analytics requires a combination of technical and soft skills. "The toolset for data science is expanding every year, but the foundations of the field can be established in just a few semesters," says Paschall.
To succeed in the field, "students will need facility with programming in languages like Python and R, as well as with data management tools like SQL databases and cloud data platforms," he says. "When they pair this with quantitative methods like regression analysis and machine learning, aspiring data analysts or scientists will find a wealth of opportunities to apply their know-how to exciting work, wherever their passion lies."
Of course, employers also prize analytical thinking and communication skills, as well as a commitment to ongoing learning and development.
Ability to Stand Out in a Competitive Field
While demand for data analysts has increased significantly in recent years, the need for highly skilled professionals is particularly strong.
To stand out, data scientists should prioritize pursuing higher education, expanding their network, and learning how to position themselves as a candidate. "What distinguishes those with graduate training in data analytics from these other job seekers is the value that comes from the closer mentoring relationships and one-on-one guidance offered by a graduate-level program," says Paschall. "The work a student produces in graduate school is a concrete indicator of readiness to contribute to a data analytics team."
Industries and Work Environment
The impact of data science spans many different industries, including technology, finance, healthcare, retail, and consulting, among others. "Data analysts may work in many settings—from small startups to the largest tech companies, universities, foundations, and governmental organizations," says Paschall. "Data analytics professionals may work in small teams or as part of a large data operation."
How Higher Education Impacts Data Analytics Career Growth
With the toolset for data science expanding every year, successful data analysts must be committed to continuous learning and professional development and able to demonstrate to employers what they have learned. One way to do that is through a graduate-level education.
"With accessible, cutting-edge tools for insight generation and data sharing, students should plan to come away from a data analytics program with a tangible set of projects that demonstrate their skills," says Paschall, who notes that students in JHU's data analytics and policy program develop a series of showcase products that display their aptitude with data visualization, regression modeling, research design, and applied machine learning.
Build Your Data Analytics Career Path at JHU AAP
Whether you are a recent college graduate looking to add data skills or a mid-career professional looking to cross-train or change careers, JHU has a place for you. "The MS in Data Analytics and Policy program prides itself on offering flexible coursework that quickly provides practical skills for students," says Paschall. "We do not assume extensive prior training with mathematics and statistics, and the emphasis in our courses is on application and career readiness."
With flexible learning options available both online and part-time, JHU makes it possible for working professionals to study a rigorous curriculum at their own pace. Contact an admissions representative today to learn more about our graduate programs.