Episode 19-05: An interview with Elizabeth Galvin
Listen to the Episode
Join us for a conversation with anthropologist and digital humanities specialist, Elizabeth Galvin, as she shares with us her previous work at the British Museum as the project manager and leader of a major digital research project on African Rock Art. We discuss issues of technology, digital curation, and engagement and the ways digital outputs can aid in efforts to increase access to museums.
About Elizabeth Galvin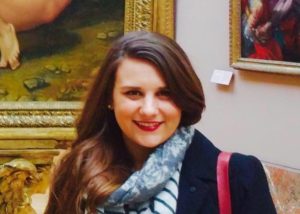 Elizabeth has worked throughout Africa, but mainly in South Africa, Zimbabwe, Kenya, and Ethiopia. She has collaborated with national and local museums throughout the continent, researching indigenous knowledge systems, material culture, and pictorial collections as well as increasing open access to museum collections and cultural heritage through online digital databases and resources.
In her current role as the Head of Learning and Digital Programs at the Victoria and Albert Museum, Elizabeth manages the research, formation, and implementation of digital programs and educational technology to explore collections. Her academic interests are focused on the intersection of technology and digital outputs in academia with traditional museum research and engagement practices.
Gamepass shelter (UNECSO World Heritage site) VR experience.
Follow Elizabeth on Twitter @LisaGalvin.