Guiding AAP Into a New Home—And a Vibrant Future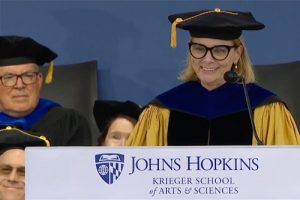 With an upcoming move into a state-of-the-art new home in Washington, D.C., and other exciting changes on the horizon, Johns Hopkins University's Advanced Academic Programs division is better positioned than ever to meet its mission of providing an exceptional graduate education with the flexibility students need to achieve their personal and professional goals.
For Veronica Donahue, Associate Dean of graduate and professional programs for the Krieger School of Arts and Sciences since 2018, ensuring AAP meets that mission has meant guiding it through a global pandemic, adapting to a changing landscape, and laying the foundation for future innovative offerings. Read on for insight from Donahue about AAP's goals, plans for the future, and more.
First, what is it that AAP seeks to accomplish—for its students and the industries and fields its graduates serve?
What we guarantee students is an opportunity to come to Johns Hopkins, to connect and collaborate with a diverse community of students from around the world, to learn from outstanding faculty, and then to use what they are learning in a professional setting or in advancement of their personal goals. So, we are preparing them to go out into the world and discover, to create new knowledge, and to be engaged citizens, with all the skills necessary to succeed.
To do that, we always seek to operate at the intersection of industry and the arts and sciences. Our programs all work to develop students' critical thinking and critical analysis skills and their ability to create knowledge. We meet industry needs in that way, but industry also requires specialized skills, which our programs provide as well.
For example, we have our MS in Regenerative and Stem Cell Technologies program that develops students' expertise in gene therapy, regenerative medicine, stem cell biology, and research ethics, and allows them to specialize further in areas like bioinformatics, epigenetics, and immunology. Our museum studies program has a firm foundation in the humanities but also prepares students to develop skills in digital curation. And our Geographic Information Systems program takes students to a higher level using various systems to prepare them to use tools and techniques in an innovative way in that field. These are just some examples—our programs span the range of topic areas, from applied economics to film and media to science writing.
Of course, to best serve students and the industries and fields in which they wish to work, we have to keep pace with change and be nimble enough to adapt. We do that through the close relationships our faculty have—many are practitioners as well as being educators—and by adapting our programs and offerings when needed.
You have long history of leading graduate professional and special programs. How has that helped you at the helm of AAP?
One of the greatest benefits of my experience is that it has given me an understanding of the opportunity to meet students where they learn. What does that mean? Our students are engaged professionals—many work full time—so it means really thinking about how to deliver a high-quality offering to students who need flexibility. My whole career has been focused on that student-centered need and finding ways to enhance the student experience without sacrificing flexibility.
An example of that is our residencies, which some of our online programs offer to bring students together for a week or more to experience community and learn from practitioners in their field. The faculty's creativity and dedication create opportunities in experiential and workshop settings for our AAP students. For example, each of our writing programs offers a wide variety of residences that bring international and domestic students together to improve their craft through workshops.
But that's just one example. The opportunities are limitless when it comes to meeting student needs. We look at the student as someone on a journey and we seek to connect with them from their first day all the way through their journey of lifelong learning to make sure they get all the benefits of a Johns Hopkins education.
You guided AAP through the global pandemic. How did you, and AAP, manage that challenge?
Before the pandemic, about 75% of enrollments were online, so we were set up very well to help students and faculty make the pivot at the start of the pandemic and then to continue to meet their needs as the situation developed and changed. The Krieger School had already made a long-term investment in our Instructional Resource Center, which supports faculty with course design and delivery and has for more than a decade been working to create a virtual environment best suited for online learning. That expertise and those systems were invaluable when we needed our in-person instruction to shift online. The IRC already had the talent and tools in videography, course design, and other vital areas to help faculty and staff make that transition.
Still, it was a very difficult time and it was important to understand that everyone in the AAP community was impacted differently by the pandemic—and that those impacts required differing responses. We emerged stronger because we were able to build on our strengths—our incredible faculty, our built-in flexibility, and our highly skilled and experienced IRC—in a way that supported faculty, staff, and students, both online and in-person.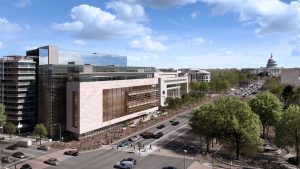 AAP will have a new home in Washington, D.C., this fall. How does its location there, as well as AAP's presence in Baltimore, affect the way AAP can serve its students and the community?
Our new home at 555 Penn in Washington, D.C., and presence on and around the Homewood campus really allow us to develop a vibrant student community and provide a culture of care for students. When we move into 555 Penn this fall, we will be in a state-of-the-art facility that allows for greater collaboration with other parts of Johns Hopkins and with the community.
For example, our Museum Studies program recently won funding for an innovative one-day convening next summer that will allow JHU museum studies students, alumni, and faculty to work alongside the Smithsonian Institution and its affiliates to explore topical issues. The close relationship between our program's faculty and students and the museum world has always been there, but our new facility will allow us to foster its growth in new and exciting ways. That will be true for our online students, as well, who will also have opportunities to engage in events in our new home.
In Baltimore, our programs are deeply embedded in the Homewood campus and surrounding area and closely connected to the industries they serve throughout the Baltimore-Washington area.
Through all of our locations, including online, we are able to provide students with the resources necessary to be successful and to enjoy their educational pursuits.
Looking ahead, what do you see for AAP?
In a broad sense, I see AAP continuing to adapt to student and industry needs so that we always deliver on our mission to provide an exceptional education that allows students to meet and even exceed their goals. That means staying on top of pedagogical and industry trends, continuing to build and develop our incredible faculty, and innovating through our programs' curricula and offerings.
As part of that, I hope to open AAP's doors beyond our degree offerings, to create more offerings in the non-degree, non-credit space, and to award non-credit certification in areas that align with industry. For example, that might mean allowing someone to get a certification in Immersive Storytelling and Emerging Technologies through our Film and Media program. So that's an area I'm very excited to be a part of developing.
We are also looking to see how we can meet the needs of industry with the content that has been so brilliantly developed by our faculty over the years, and to branch out beyond the master's level. And we are looking at developing partnerships with businesses that will benefit our students, faculty, and the fields in which they serve.