Your Guide to Hopkins in D.C.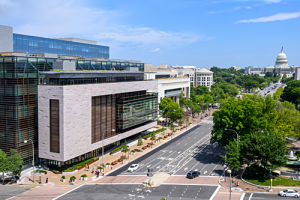 Whether you're visiting for a day or attending in-person classes long-term, you'll find Hopkins in D.C.—home to Johns Hopkins University's Advanced Academic Programs division and other JHU enterprises—offers a host of opportunities and amenities designed to help you learn, connect, and collaborate.
Hopkins in D.C.'s location at 555 Pennsylvania Ave. NW, in the heart of the nation's capital, is an amenity in its own right, but the facility also boasts countless thoughtful features that will enhance and complement your Johns Hopkins academic experience.
From a coffee shop with an enviable view, to over 400 seats in open lounge and study spaces, to a theater, fitness center, and more, Hopkins in D.C. has an array of amenities to explore. Follow the tips below to get acquainted with AAP's home:
Fuel Up in the Coffee Shop: Head to the seventh-floor Coffee Shop to prepare for your day. You can grab and go, take a seat, or step onto the adjacent terrace and sip within sight of some of Washington, D.C.'s best-known buildings.
Lighten Your Load: Store what you don't need in one of the building's more than 500 free lockers, which have built in locks and a power source so you can charge your devices. Just be sure to empty your locker by the end of the day.
Log In and Learn: In addition to its 38 technology-enabled classrooms, and building-wide WiFi, Hopkins in D.C. features a computer lab on the sixth floor, with computers for use by students and other JHU affiliates, as well as ample space throughout the building to work on your laptop, tablet, or phone.
Relax on The Beach: You won't get sandy at this indoor multi-level hangout space, which offers a variety of comfortable seating options where you can connect with friends, catch up on your studies, relax, or listen to a presentation. The Beach stretches from level B1 to the first floor, with access points on each floor.
Break Open a Book: The second-floor Sheridan D.C. Library offers access a full range of library services, including digital and onsite collections, research assistance and consultations, quiet seating and study space, and a Bloomberg Terminal room. Library users also have access to millions of books and publications that can be delivered from various locations within a day.
Soak in the View: In addition to the seventh-floor terrace, outdoor terraces on the second and sixth floors offer students, faculty, and staff a chance to pair a breath of fresh air with stunning views of the Capitol, the National Mall, the Washington Monument, and other iconic sites. Terraces on the eighth and ninth floor conference levels offer similarly impressive views and are accessible during events held on those floors.
Schedule Your Group Study: Make use of the building's 27 group study lounges, which range in size from four to 10 seats and are ideal for small-group collaboration. You can reserve a group study room through the 25Live Scheduling system.
Mind Your Health: To work off some stress, head to the level B1 Fitness Center, which is free for students, faculty, and staff and features cardio and body building equipment, as well as private locker rooms. Hopkins in D.C. also features four reflection and tranquility rooms, three lactation rooms, and a student wellness center.
Stand, Sit, Meet: The building's Room Stair, a design feature built into the seven-story atrium, stretches from the first floor to the seventh and offers ample space to stand, sit, or chat with others—with the expansive atrium as a backdrop. You'll find other places to rest or connect in the building as well, including seating areas just outside the atrium and, nearby, a selection of armchairs that face Pennsylvania Avenue and are a perfect place to read, relax, or people-watch.
Connect With the Community: The building's 375-seat theater boasts a 30-foot LED screen, the latest in lighting and sound technology, and a stage large enough to seat a 30-person orchestra. Along with the building's conference spaces—located on the eighth through tenth floors—and a flexible fourth-floor event space, the theater is central to Hopkins in D.C.'s position as a nexus for trusted academic experts, global leaders, policymakers, artists, and scholars.
Learn, Connect, and Explore with AAP
Not yet a JHU Advanced Academic Programs student? Learn more about our master's degree program offerings and student resources or contact our admissions team for more information.
Read more about AAP's fall 2023 move to Hopkins in D.C. on our news page.