What Can You Do With a Master's in GIS?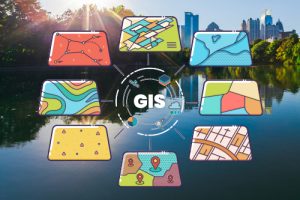 Have you ever wanted to create highly detailed maps? Make 3D models of earthquake impacts? Learn to fly drones for scientific research and municipal mapping? Our world is comprised of geospatial data; and computing and cloud-based advancements now allow us to accomplish these tasks more efficiently and effectively than ever.
In fact, developments in the field of Geographic Information Systems have reshaped how we organize, share, analyze, and visualize geospatial information. If you are interested in or already a part of the GIS field, you may be wondering, "What can I do with a master's in GIS?" For many, earning a master's degree in this specialized field opens doors to a wide range of opportunities, with the demand for skilled professionals continuing to grow around the world.
"GIS is used in many different industries and organizations," says Cassandra Hansen, Program Director of Johns Hopkins University's MS in Geographic Information Systems program. "From federal, state, and local organizations to nonprofits, GIS is being used to solve all sorts of spatial problems."
What Career Options Are Possible With a GIS Master's Degree?
A GIS master's degree program equips students with a solid foundation in geospatial data technologies and science. This foundation fosters skill development in programming, prediction and analysis, and project management.
"It's always fascinating to hear and see what our talented alumni are doing in the field of GIS," says Hansen. "Many have found success working as GIS managers and specialists at environmental NGO's, such as The Jane Goodall Foundation and Blue Raster." Others use the skills and knowledge they gained in their graduate studies to advance in or enter fields that range from defense and intelligence to education to urban planning.
Job Outlook for a GIS Professional
The career outlook for the GIS field is bright. The increased need for mapping technology, surveying, and related specializations continues to grow at impressive rates.
Industries Hiring GIS Professionals
Career options are broad across numerous sectors, fields, and niches, including:
Urban Planning
Scientific Research
Environmental and Natural Resources
Digital Information Technology
Nonprofits
Education
Commercial Sector (Business Applications)
Energy Utilities
Health and Human Services
Defense and Intelligence
Land Surveying
GIS Occupations
A master's degree program can help you develop the expertise necessary to advance in your field or branch out into a new one. Some job types possible with a GIS master's degree are:
GIS Analyst
Software Engineer
Cartographer
Hydrologist
Data Scientist
Business Analyst
Geospatial Logistics Analyst
Epidemiologist
Geographer
Data Management and Curation Professional
Environmental Researcher
Careers and Degrees Related to GIS
Students seeking a master's degree in GIS come from a variety of backgrounds and fields of study. Among the many undergraduate degree and career types that students build on with a master's in GIS are:
Data Science
Landscape Architecture
Engineering
Remote Sensing
Photogrammetry
Business Intelligence Analysis
Software Development
Environmental Science
Natural Resources and Conservation
Is a Master's in GIS Worth It?
If you are passionate about GIS and want to build a fulfilling career in the field, an advanced degree will likely help. Many graduates report the skills and knowledge they gained in a master's program increased their chance of finding employment in a field of interest or allowed them to advance within their organization.
For the latest salaries and careers in GIS, use the Career Outlook tool on JHU's MS in Geographic Information Systems program webpage.
Earn Your GIS Master's Degree From Johns Hopkins University
Whether you are seeking to build on a bachelor's degree in GIS or are entering GIS from another field, Johns Hopkins University's Advanced Academic Programs division can help you meet your personal and professional goals.
The MS in Geographic Information Systems program is one of the many flexible master's degree offerings designed to meet the needs of working professionals. Contact JHU today for more information.