How to Choose a Graduate Program That's Right for You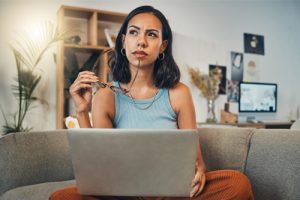 Thinking about going back to school, but not sure how to choose a graduate program from the many available options? Whether you're looking to advance your career, expand your knowledge, or to meet a personal goal—you'll find the following six steps will help you in choosing a graduate program that successfully puts you on a path to professional and personal growth.
Choosing a Graduate Program in Six Steps
Step 1: Develop Your Unique Criteria
First, take inventory of your motivations, passions, and goals, as well as practical parameters that will help guide your choice. Understanding what you hope to accomplish, why you'd like to achieve it, and how, when, and where you would like to study will help you as you search for the right program and institution. You should also be sure you understand the benefits of pursuing a graduate program. To get a better understanding of your needs, limitations, and objectives, ask yourself:
How many hours a week can I realistically dedicate to a program?
Do I want to study part time or full time?
How much flexibility do I need in terms of where and when I complete my studies?
Do I want to study online or in person?
For in-person programs, how far am I willing to commute?
Am I willing to move?
What is my budget?
Will my employer pay for some or all of my tuition?
What do I want my career to look like in two years? What about in five years?
What do I hope to get out of a graduate program?
What elements of my industry excite me, and can further education allow me to engage more in those elements?
Step 2: Create a List of Programs to Consider
Once you have a sense of direction, you can start to compile a list of programs you'd like to explore further. Search by a specific program type—"MS in Intelligence Analysis," for example—or target specific schools you're interested in and explore their programs, starting with a broad subject area and drilling down to specific programs. As you begin exploring programs and schools, rule out any options that don't meet your basic needs in terms of mode of study, flexibility, and cost. Reference your answers to the questions posed in step one to narrow your list.
When compiling information, be sure to note specific features or considerations that attract you to each program. You might identify a course that piques your interest, for example, a faculty member you'd like to study with, or a program you can complete in 12 months.
Step 3: Evaluate Program Requirements
Now that you've identified programs to consider, you'll need to be sure you meet each program's admissions requirements. Some programs may require that you complete a prerequisite course, while others may require you to pass an entrance exam.
This information is typically available online. Johns Hopkins University's Advanced Academic Programs division, for example, offers general admission information on its website, with specific requirements noted on each of its program web pages. In addition, you can learn more about admission requirements by calling the Advanced Academic Programs division's admissions office at 202-452-1940.
Step 4: Evaluate for Quality and Narrow Your List
As you consider your initial list of programs, you will want to evaluate each for the quality of the education and resources it offers. For each program on your list, consider the degree to which it has:
Qualified Faculty
Learning from experts at the top of their field can offer expansive opportunities for success—in and out of the classroom. Review each program's website for information about faculty qualifications, keeping in mind that instructors for professional programs may possess advanced academic credentials, extensive experience in their field, or both.
As you review faculty bios, consider what the faculty brings to the classroom and whether that will help you meet your goals. For example, Johns Hopkins University's Master of Biotechnology Enterprise and Entrepreneurship program attracts faculty with real-world experience in startups, venture capital, and life sciences firms. Access to an instructor with such expertise is invaluable for students seeking to launch or advance a biotech startup.
Access to Resources and Faculty
Exceptional faculty are critical to a quality education, but it is essential that faculty members are accessible and that the school or program offers resources to help you excel in your coursework and advance in your professional life. Consider student-to-faculty ratios, mentorship opportunities, and career services, as well as access to facilities like libraries, labs, and even online spaces that can enhance your learning experience.
Current students and alumni of a program or school can be a valuable source of information about faculty access and resources. If you can, talk to them. Ask questions like:
Were you happy with the quality of instruction?
Did you find the faculty to be accessible and, if so, how did your interactions with your instructors help you?
Did the school offer resources like career coaching, career development, and help finding internships?
Did you have access to research labs, libraries, online spaces, and other facilities? If so, what did you think of them?
If you studied online, were you satisfied with the quality of the online delivery of instruction? Did you find you were able to connect with other students in your program who were also studying online?
If you experienced any difficulty accessing online resources, coursework, or faculty, was the school helpful in resolving the problem?
What was the strongest aspect of the program and school; what was the weakest?
If you had to make the decision again, would you enroll in the program? If not, why not?
If you're not able to talk directly with students or alumni, be sure to review testimonials, which are typically listed on the program's website. Testimonials will, naturally, paint a positive picture, but can still offer some insight into the student experience.
Step 5: Consider Cost and Return on Investment
Your graduate degree or certificate is an investment in your future, so it makes sense to consider the expected return. Be sure you understand the cost for each program you're interested in, including non-tuition expenses like transportation, textbooks, and even housing or childcare costs, if applicable.
You should also research what kinds of loans, scholarships, and grants are available to you and whether your employer offers tuition reimbursement. Often, you'll find information about financial aid on an institution's website. For example, JHU's Advanced Academic Programs division posts important information on its financial aid webpage.
When considering the potential return on your investment, you can research future earnings potential through a host of online resources. Johns Hopkins offers a Career Outlook tool on its Advanced Academic Programs division's website, letting you search, by geographic region, for job titles and their median salary (you'll find an example on the MS in Financial Economics program page). Other resources, like the U.S. Bureau of Labor Statistics Occupation Finder, provide median pay for specific careers and education levels.
Of course, while median salaries and industry growth projections offer some concrete evidence on which to base your decision, you should also consider the long-term value your enhanced industry knowledge and expanded professional network will bring. And don't forget the intangibles, like the satisfaction that comes with performing at your peak or making a positive change in your organization or the world.
Step 6: Select and Apply
You've gathered information on programs that meet your needs, evaluated them for quality, and considered cost and potential return on investment. You are now ready to narrow your list and apply to the program or programs of your choice. Your graduate journey is about to begin in earnest—you can proceed knowing you are making a thoughtful, informed choice.
Which Graduate Program Is Right for You?
As you work through the steps of how to choose a graduate program, JHU's Advanced Academic Programs division invites you explore its graduate programs. We offer many enriching fields of study, with instruction by Johns Hopkins University's exceptional faculty, in a flexible format designed to meet the needs of working professionals. Request more information today!