How a Master's in Government Can Fuel Your Career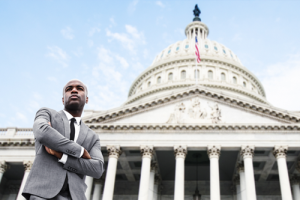 Whether you're passionate about shaping public policy, committed to diplomacy, or interested in ensuring national security, you will find that the skills and expertise developed in a master's in government program can help you advance your career and effect change at the local, national, or global level.
Read on to explore some of the many career paths in government and to learn the benefits of a master's in government program.
Types of Government Careers
Government careers span a wide range of fields and specializations and can be broadly categorized based on their functions and the sectors they serve. Some examples:
Administrative and Staff Positions: Public Administration, Staff Positions, Human Resources
Policy and Analysis: Policy Analysts, Economic Analysts, Environmental Policy Planners
Public Safety and Security: Law Enforcement, Emergency Services, National Security
Legal and Judicial: Attorneys, Judges and Magistrates, Paralegals
Health and Human Services: Public Health Officials, Social Workers, Medical Professionals
Infrastructure and Public Works: City Planners, Transportation Officials, Engineers
Environmental and Conservation: Wildlife Biologists, Park Rangers, Environmental Inspectors
Education and Outreach: Teachers, Community Outreach Coordinators, Librarians
Financial and Economic: Tax Examiners, Budget Analysts, Economists
Diplomacy and International Relations: Diplomats, Foreign Service Officers, International Development Workers
Best Degrees for Government Jobs
Choosing the right degree can be a pivotal step in launching a successful career in government or advancing in your existing career. The "best" degree can vary depending on your career goals and your sector of interest. Some types of government jobs—such as policy analyst or attorney—require higher education to develop necessary specialized skills. However, it's not uncommon for government professionals to start their career with a bachelor's degree in areas of study like political science, economics, history, finance, or even business administration. And, of course, earning a graduate degree in government can prove beneficial for those who work outside of government—in the private and nonprofit sectors, for example.
Five Careers in Government
Legislator
Median Salary: $47,935 mid-level; $149,512 senior-level
Annual Growth: 0.61% (Average)
Legislators are elected officials who develop, introduce, or enact laws and statues at the local, tribal, state, or federal level.
Labor Relations Specialist
Median Salary: $82,009 mid-level; $131,724 senior-level
Annual Growth: 0.35% (Average)
Labor relations specialists work to resolve disputes between workers and managers, negotiate collective bargaining agreements, or coordinate grievance procedures to handle employee complaints.
Urban and Regional Planner
Median Salary: $79,539 mid-level; $121,451 senior-level
Annual Growth: 0.61% (Average)
Urban and regional planners create comprehensive plans and programs for use of land and physical facilities of jurisdictions, such as towns, cities, counties, and metropolitan areas.
Social and Community Service Manager
Median Salary: $72,906 mid-level; $128,176 senior-level
Annual Growth: 1.25% (Faster than average)
Social and community service managers coordinate the activities of a social service program or community outreach organization. This includes overseeing the organization's budget and policies regarding participant involvement, program requirements, and benefits. Work may involve directing social workers, counselors, or probation officers.
Public Relations Specialist
Median Salary: $67,472 mid-level; $134,208 senior-level
Annual Growth: 0.85% (Average)
Public relations is a broad career path that can be specialized to meet the needs of a government agency. The work of a public relations specialist may include writing press releases, communicating with the media, and running social media accounts, among other tasks. Public relations specialists work to align public opinion with the desired public image for individuals, groups, or organizations.
Industry, occupation, compensation, and projected growth data are supplied by Lightcast. Visit JHU's MA in Government program online to review career outlook data in more detail.
Why Pursue a Master's Degree for Government Employees
Making the decision to pursue a master's degree in government can be a transformative step that puts you on the path to personal and professional growth. A Master of Arts in government program can help you:
Gain Specialized Knowledge
A master's degree can open doors to higher-paying positions and specialized roles that rely on the type of specialized knowledge you develop at the graduate level. Concentrations like Democracy Studies and Governance, Political Communications, or Security Studies can make you a more attractive candidate for specific government sectors.
Further Develop Skills
Courses at the master's level are designed to challenge your thinking and further develop your analytical skills. You will learn to evaluate information critically, consider multiple viewpoints, and make well-informed decisions—skills that are essential in any government role.
Graduate programs are also an excellent way to further develop soft skills like communication, problem-solving, and leadership. You'll often engage in discussions and assignments that help you articulate complex ideas clearly and confidently.
Build a Strong Network
Unlike undergraduate programs, where the focus is typically more broad, master's programs attract professionals established in their fields or looking to pivot into specialized roles. These peer connections can be invaluable as you progress in your career, offering potential partnerships, collaborations, or even job opportunities.
Additional networking opportunities arise from faculty and guest speakers who are experts in their field. This provides the chance to learn from and connect with industry leaders, opening doors that might otherwise remain closed. You'll also gain access to your chosen university's alumni network, giving you access to a wide range of professionals in your field.
Earn Your Master's in Government at JHU
JHU's MA in Government program is flexibly designed to meet the needs of working professionals, while also ensuring students acquire the expertise they need to excel in a variety of government and government-related roles.
The program is one of six in JHU's Center for Data Analytics, Policy, and Government, which allows students to take courses across programs to tailor their degree and also offers extracurricular activities that help enrich the educational experience.
Contact JHU AAP today to learn more about the MA in Government program.
Learn how AAP's Center for Data Analytics, Policy, and Government prepares leaders and decision-makers in government and industry.