Join Us at the 2022 KSAS Master's Ceremony
Zanvyl Krieger School of Arts & Sciences Master's Ceremony

Thursday, May 19, 2022
7:00 p.m. EDT
In case of inclement weather, the KSAS Master's Ceremony will take place on Friday, May 20, 2022 at 2:00 p.m. EDT. The location will remain at Homewood Field on Homewood campus in Baltimore, MD.
If the KSAS Master's Ceremony is rescheduled from Thursday evening, the reception will also be postponed to follow Friday's ceremony.
We invite everyone to gather and celebrate the accomplishments of not only those graduates finishing up their degree in the Spring of 2022, but also those graduates from 2020 and 2021 who were unable to participate in person.
If you plan to participate in the 2022 KSAS Master's Ceremony, please review these details to fully prepare and enjoy partaking in this momentous event.
Before the Ceremony
In order to participate in the KSAS Master's Ceremony, please be sure you applied for graduation in a timely manner.
Next, you are invited to register for the in-person KSAS Master's Ceremony. RSVP Today!
You will be required to wear JHU regalia during the in-person graduation ceremony. Purchase your regalia, and it will be shipped directly to your desired home address.
If you or your family members are traveling from out of town, please note the following:
Day of the Ceremony
Please join us as we return to the Homewood campus for the first KSAS Master's Ceremony at Homewood Field since 2015. Here is additional information on parking and transportation to campus. Family and friends are welcome to share this moment from the Homewood Field stands, or to watch the ceremony as it is live video streamed.
We recommend that you leave personal items at home or where you are staying, as there is no onsite storage available. All bags and purses may be searched upon entering the Homewood Field stadium or the athletic center. Restrictions are as follows:
•  Bags and purses larger than 13" x 15", including luggage, are not permitted. Diaper bags are permitted.
•  Backpacks and luggage are not permitted. Please plan to have your large bags or luggage stored at your hotel/accommodation if you need to check out prior to the ceremony. Bags that do not meet the requirements will not be permitted into the stadium and bag check will not be provided.
•  Wrapped gifts and balloons are not allowed.
•  Signs, posters, banners, and flags will not be allowed inside the stadium for safety reasons.
•  Food and drinks, with the exception of water, may not be brought in.
•  Alcohol, drugs, and tobacco are strictly prohibited, including e-cigarettes.
•  Pets are not permitted in or around Homewood Field with the exception of professionally trained Service Dogs.
•  Firearms, knives, fireworks, or weapons of any kind are not permitted.
•  Horns, cowbells, whistles, or any artificial noisemakers or laser pointers are not permitted.
•  Guests are permitted to bring an unopened water bottle, and a seat cushion or seatback.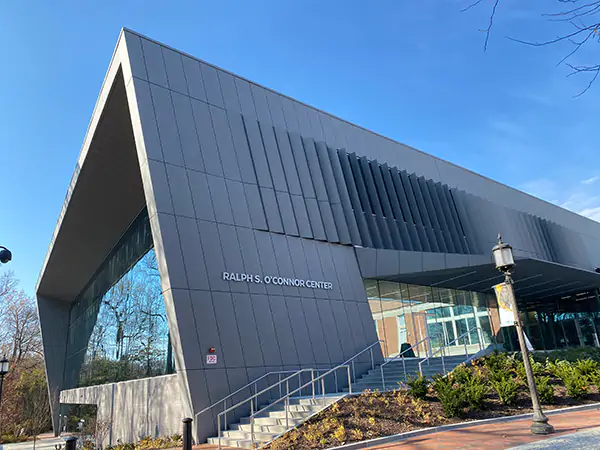 At 5:00 p.m. on Thursday, May 19, you will join your fellow graduates for robing and line-up at the Ralph S. O'Connor Recreation Center, located next door to Homewood Field.
You will need to bring your regalia and we encourage comfortable footwear as you will be walking on turf and uneven walkways. Plan to carry only your essential items, such as a wallet or mobile phone, as you will not be able to leave personal belongings in the robing area. Please note that unfortunately, we will not have additional regalia available on the day of the ceremony.
The procession onto Homewood Field will start at 6:30 p.m., leading into the formal start of the graduation ceremony at 7:00 p.m.
During the ceremony, you will hear from university leaders and the main address will be delivered by Ms. Renee Chenault-Fattah. Afterward, graduates will be called alphabetically by degree program to walk across the stage and be congratulated by Christopher S. Celenza, James B. Knapp Dean, Zanvyl Krieger School of Arts and Sciences.
This graduation ceremony will last until approximately 9:00 p.m.
Homewood Field, San Martin Parking and Keyser Quad Maps and Directions
After the Ceremony
Immediately following the graduation ceremony you are invited to attend a celebratory reception on Keyser Quad, just a short walk away from Homewood Field. This is a wonderful opportunity for you and your guests to mingle with your fellow graduates and commemorate the completion of your degree in front of the iconic Gilman Hall.
Diplomas will be mailed out to all spring-term graduates later in the summer once all degrees are reviewed. You do not need to attend the KSAS Master's Ceremony or the JHU Universitywide Commencement in order to receive your diploma. If you have additional questions, please email asenverify@jhu.edu.
For additional information and questions, please email aapevents@jhu.edu.
Will You Attend the 2022 KSAS Master's Ceremony?
Please let us know if you'll be able to join your fellow graduates for the KSAS Master's Ceremony this year.