On Thursday, May 19, Ms. Renee Chenault-Fattah will deliver the main address to hundreds of graduates at the 2022 KSAS Master's Ceremony, the first in-person ceremony in three years.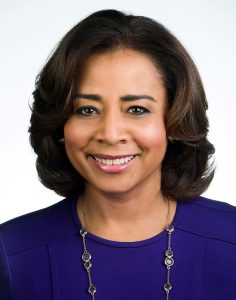 "I am honored that Renee Chenault-Fattah will be delivering the address to these inspiring graduates. Through her leadership and persistent efforts to inform and improve our world, Renee exemplifies the mission of the Krieger School of Arts and Sciences," said Veronica Donahue, PhD, Associate Dean for Graduate and Professional Programs.
Ms. Chenault-Fattah is currently the Executive Director of Philadelphia Lawyers for Social Equity, which provides free legal advice and representation to local low-income residents. She obtained her doctorate in law from the University of Pennsylvania Law School and has held various positions within the New York City judicial system.
In addition, Ms. Chenault-Fattah is one of Philadelphia's best-known broadcast journalists. She earned her master's degree in broadcast journalism from the University of Missouri and served as the news anchor for NBC10. After 25 years at NBC10, she then went on to produce a documentary about the impact of brain diseases on communities of color.
Ms. Chenault-Fattah also holds a Baccalaureate degree in political science from the Krieger School of Arts and Sciences and is a Johns Hopkins University Board of Trustees member.
<!–
Please join the graduates, Ms. Chenault-Fattah, and the Krieger School's learning community on May 19 to celebrate the many achievements of the past year.
–>