The United States Geospatial Intelligence Foundation recently awarded its 2023 Maxar Scholarship for Diversity and Innovation in GEOINT to Jennifer Jun, an MS in Geospatial Intelligence student in Johns Hopkins University's Advanced Academic Programs division.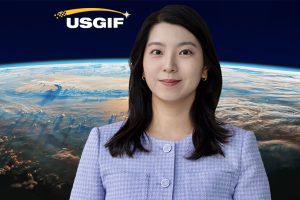 Jun was among 21 students recognized with one of USGIF's annual scholarships, which this year totaled $125,000. The students, who represent 20 schools, are all studying geospatial intelligence or a related field and demonstrate a shared desire to address critical national security issues, solve complex global issues, and serve their communities through the use of use of geospatial intelligence. USGIF introduced the Maxar scholarship in 2022 to recognize undergraduate or graduate students who embody Maxar's commitment to diversity, inclusion, and belonging and bring an innovative perspective to the GEOINT field.
In addition to being a graduate student, Jun is a project manager and research associate for imagery analysis at the Center for Strategic and International Studies. Her academic interests include leveraging imagery analysis and open-source research to better understand security developments worldwide, especially in North Korea.
"Jennifer is an excellent student," says Jack O'Connor, Program Director for JHU's MS in Geospatial Intelligence program. "In addition to bringing curiosity and intellectual rigor to her academic work, she shares her experience in the field with her colleagues in the Geospatial Intelligence program."
Jun expects to graduate in 2024 and will continue to deepen her understanding of imagery analysis and the larger geospatial landscape, using what she has learned in real-world applications. "I am still early in my career," she says. "But in just the year and a half I've been in this program I've been able to utilize and implement a lot of the skill sets—both the technical and soft skills—in my work."