GIS After Dark - November 2022
GIS After Dark - November 2022 featuring Ensheng "Frank" Dong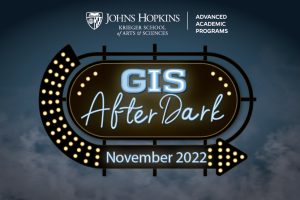 Please join Dr. Cassandra Hansen for a curated discussion with Ensheng "Frank" Dong, aka "Mr. Covid Dashboard", on the last three years of monitoring Covid Cases.
Starting in January 2020, The Johns Hopkins Coronavirus Resource Center is a continuously updated source of COVID-19 data and expert guidance.
"We collect and analyze the best data available on cases, deaths, tests, hospitalizations, and vaccines to help the public, policymakers, and healthcare professionals worldwide respond to the pandemic. TIME recognized the CRC as the "go-to data source" for COVID-19 and named it to the Top 100 Inventions of 2020. In 2021, Research!America named the CRC a recipient of its "Meeting the Moment for Public Health" award."
Coronavirus Resource Center Global Map
Please note that this event will not be recorded.