AAP Welcomes Students to Our New Home for Fall 2023
Johns Hopkins University's Advanced Academic Programs division opened its fall 2023 term at Hopkins in D.C.—a state-of-the-art facility located at 555 Pennsylvania Avenue NW. Designed to promote academic innovation and foster collaboration and community, Hopkins in D.C. presents new opportunities for research, learning, and public engagement, offering a distinctive Johns Hopkins experience in the heart of the nation's capital.
Hopkins in D.C. brings together AAP graduate students and faculty, and individuals from across the institution, to integrate the university's shared knowledge and allow for interdisciplinary collaboration. Its location—just minutes from a host of vital national and international institutions—positions the JHU community to contribute to global conversations in new and meaningful ways.

Innovation, Creativity, Collaboration
With 38 high-tech classrooms, a 375-seat theater, versatile study spaces, and ample venues to relax and recharge, the 420,000-square-foot building presents an unparalleled opportunity for innovation, creativity, and the exchange of ideas—not just in the classroom, but also through events and conferences that connect JHU to the community at large.​
Hopkins in D.C. features:
Technology-enabled classrooms
Library
Theater
Rooftop terraces
Study lounges
Multimedia studio
Coffee shop
Conference center and event space
Fitness and wellness centers
Premier location

In-Person AAP Graduate Programs at Hopkins in D.C.:
We welcome Krieger School of Arts and Sciences students and the greater university community to visit Hopkins in D.C. to study, hold meetings, and participate in groundbreaking dialogues.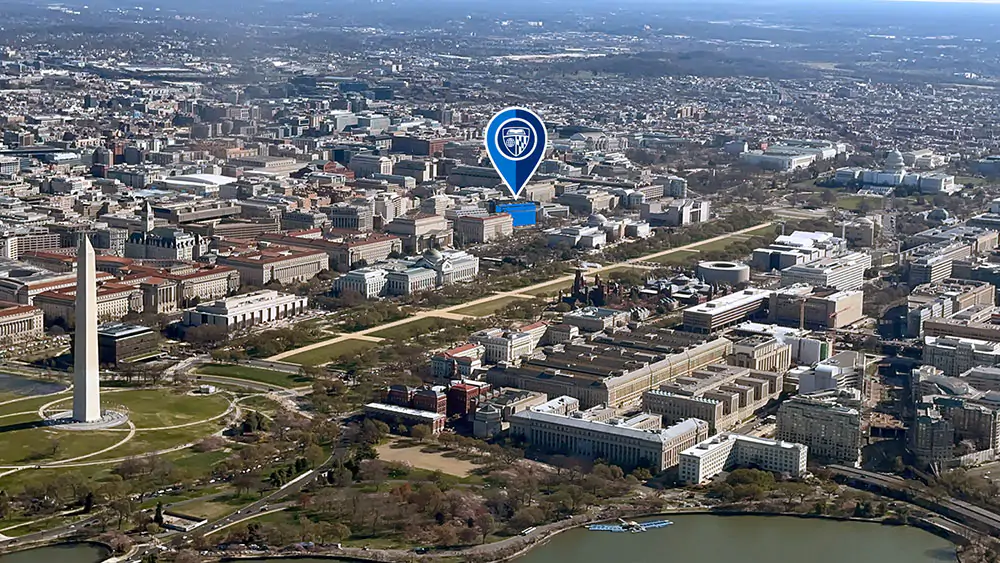 Getting to Hopkins in D.C.

Hopkins in D.C. is located at 555 Pennsylvania Avenue NW and can be reached via Metro, train, bus, car, and other modes of transportation. Transportation highlights:
The Archives-Navy Memorial-Penn Quarter Metro station is a four-minute walk, and four other Metro stops are between a seven- and 15-minute walk.
JHU will provide shuttle bus service on weekday mornings and evenings with connections to nearby Metro stations and Union Station.
Several bus lines pass the building and others have stops within a short walk.
Union Station is a quick Metro ride or 20-minute walk.
The building is convenient to I-395, allowing access to I-695, the Baltimore Washington Parkway, and the George Washington Parkway.
Multiple bike routes serve the building and JHU provides bike rack space for students, faculty, and staff.
Hours of Operation
Monday through Thursday: 7 a.m. – 11 p.m.
Friday: 7 a.m. – 9 p.m.
Saturday: 9 a.m. – 9 p.m.
Sunday: 7 a.m. – 11 p.m.