Women in White Coats and the Path to Publishing a Nonfiction Book
The JHU Writing Program invites you to a discussion with Olivia Campbell (JHU Science Writing 2014), author of the new book Women in White Coats: How the First Women Doctors Changed the World of Medicine.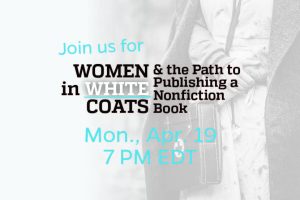 In the words of bestselling author Nina Sankovitch, Women in White Coats is a "fascinating, absorbing, and inspiring account of three women who set out to become doctors at a time when female doctors were desperately needed but hard to find." In this special event, Campbell and host Lynne Lamberg will discuss both Women in White Coats and how to go from book idea to publishing success.
A not-to-be-missed evening for anyone interested in great writing and the path to publishing a popular nonfiction science or medical book.
This event will be live-streamed.