The Making of Global Trends 2030
Join host Michael Ard for a discussion with strategic foresight and global trend expert Mathew Burrows.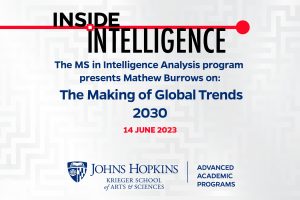 Mathew Burrows is the Program Lead of the Stimson Center's Strategic Foresight Hub and a Distinguished Fellow with the Reimagining US Grand Strategy program. Prior to joining Stimson, he served as the director of Foresight at the Atlantic Council's Scowcroft Strategy Initiative and as the co-director of the New American Engagement Initiative.
Burrows is one of the leading experts on strategic foresight and global trend analysis. In 2013 he retired from a 28-year-long career in the State Department and the Central Intelligence Agency (CIA), the last 10 years of which he spent at the National Intelligence Council (NIC), the premier analytic unit in the US Intelligence Community. In 2007, Burrows was appointed Counselor, the number three position in the NIC, and was the principal drafter for the NIC publication Global Trends 2030: Alternative Worlds, which received widespread recognition and praise in the international media. In 2005, he was asked to set up and direct the NIC's new Long Range Analysis Unit, which is now known as the Strategic Futures Group.
Other positions included assignments as deputy national security advisor to Treasury Secretary Paul O'Neill (2001-02), special assistant to the UN Ambassador Richard Holbrooke (1999-2001), and first holder of the intelligence community fellowship at the Council on Foreign Relations in New York (1998-1999). Burrows received a BA in American and European history from Wesleyan University and a PhD in European history from the University of Cambridge.