The Leading Edge – March 2023
Leading Organizational Resilience:  the Royal Canadian Airforce through the Lens of Romer's Rule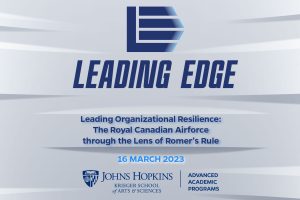 As leaders, how do we lead ourselves and our organizations amidst dynamic complexities that require we both sustain and change? Join us for a conversation led by cultural anthropologist Dr. Angela Thieman Dino from the University of Colorado Boulder's Engineering Leadership Program and Waldo Martin, John Hopkins Master of Science in Organizational Leadership student who spent 31 years in Royal Canadian Air Force before leading in industry and social sectors. They will lead us in a discussion as we practice applying a concept borrowed from paleontology to address challenges that get to the heart of authenticity, resilience, and literally, survival.
Angela Thieman-Dino was the Engineering Leadership Program's first faculty member, teaching its inaugural course in Spring 2012. An alumna of the University of Colorado Boulder, Angela earned her BA, MA and PhD in Anthropology. As a cultural anthropologist her ethnographic research has focused on youth in post-war Bosnia-Herzegovina and on African-American middle-school girls in urban Denver. Previously, she has served on the faculty of the Presidents Leadership Class, Engineering Management Program, Leeds Scholars Program, and Leadership Studies Minor, and was a Visiting Scholar in the CU Law School. She serves on the advisory board of the Undergraduate Research Opportunities Program and especially enjoys initiating student-driven interdisciplinary research. Beyond campus she has engaged on the Board of Directors and faculty of local and national human rights, development and educational organizations, including Amnesty International USA, the Rocky Mountain Survivors Center (serving survivors of torture living in Colorado), United to End Genocide, Educate! Africa, and Watson University's global program for social entrepreneurs.
Rob "Waldo" Martin was formerly the vice president/chief of staff at the Boettcher Foundation, where he provided strategic support to the CEO and board of trustees and managed the foundation's operational resources.
Before joining the Boettcher Foundation, Waldo accumulated global experience in operations, team development, policy advising, and strategy formulation during a 31-year military career. He served as a strategic advisor to the commander of the North American Aerospace Defense Command (NORAD) and United States Northern Command (USNORTHCOM) and managed relationships and information-sharing systems with more than 50 national and international mission partners. From 2007 to 2012, Waldo directed multiple interagency teams and coordinated counterterrorism and aerospace defense initiatives as the chief of staff of the operations division at NORAD.
Waldo is a fighter pilot and a veteran of Operation Allied Force (Kosovo) and Operation Iraqi Freedom and commanded an international flying training squadron. After retiring from the Royal Canadian Air Force in 2014, Waldo provided program management for $600 million in projects at a Fortune 50 aerospace company. He is also a guest lecturer on leadership and global issues.