Inside Intelligence - The Israeli Perspective on Strategic Intelligence
Host Michael J. Ard leads a curated discussion with intelligence analyst Colonel Itai Shapira on the Israeli Perspective on Strategic Intelligence.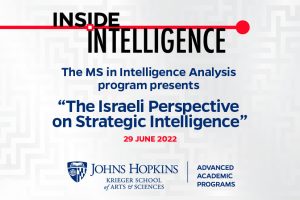 Colonel (res.) Itai Shapira has more than 25 years of experience in the Israeli Defense Intelligence (IDI), where he has served in various intelligence analysis and management roles on the strategic, operational, and tactical levels. His last assignments included the deputy for analysis in the IDI's Research and Analysis Division (RAD), the head of the Syrian department in the RAD, and the head of the IDI's "Devil's Advocate" department.
Itai holds a B.A and an MBA from Tel-Aviv University and is a graduate of the Israeli National Defense College. He is currently a PhD candidate at the University of Leicester – studying Israeli national intelligence culture.
Itai has published articles about intelligence and strategy in Intelligence and National Security, War on the Rocks, Defense One, Small Wars Journal, RUSI commentary, and other platforms. Itai is also a Red Team Leader at Red Team Thinking ®.