The Internet as a Medium of Activism
Raw Hope of Humanity Rising: Online Public Dialogues for 2021 Presented by the Third Space Network & Coalition partners.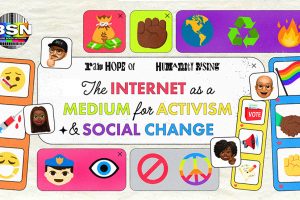 JHU Museum Studies and Cultural Heritage Management graduate programs are pleased to be participating in Raw Hope of Humanity Rising, a series of four public dialogues responding to the extreme challenges of the moment. Raw Hope brings together leading changemakers – from street artists to muralists to Black Lives Matter activists – creating a socially-engaged space for dialogue, participation, diversity and renewal in 2021. Our JHU programs are among the Coalition Partners of art museums and organizations presenting this series along with The Third Space Network (3SN), an artist-driven web-based performance platform.
Panel 3: The Internet as a Medium of Activism
Wednesday, April 14, 2021, 6–7:30 PM ET
The Internet as a platform for political action through social media collaboration, virtual community, alternative journalism, and digital forms of artistic media.
Panelists include: Monica Montgomery (moderator), Museum activist, Strategic Director, Museum Hue, Jeff Gates, DC artist and writer, founder of the Chamomile Tea Party, Makia Green, Core Organizer, DC Black Lives Matter, Randall Packer, DC Artist, Creative Director, Third Space Network.
++ After Hours /++
A post-panel virtual soirée hosted by 3SN Welcomer MonicaMuses to share ideas & aspirations for new artistic projects & social initiatives. Please join us and spread the word!