Sustainable Solutions - September 2022
2022 Sees Important Advancement in the Protection of the Environment in Relation to Armed Conflict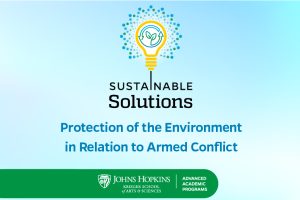 Please join Dr. Jennifer da Rosa and Dr. Cassandra Hansen for a curated conversation with Professor Elizabeth Hessami on "2022 Sees Important Advancement in the Protection of the Environment in Relation to Armed Conflict."
2022 has been a banner year for advancing protections for the environment in relation to armed conflict. The UN International Law Commission (ILC) has adopted 27 Key Principles which are expected to be presented to the General Assembly for consideration later this year. The Principles mark increased recognition of the fragility of the environment before, during, and after armed conflict. They restate and aggregate important environmental legal protections for the both the environment and the lands of vulnerable peoples during conflict.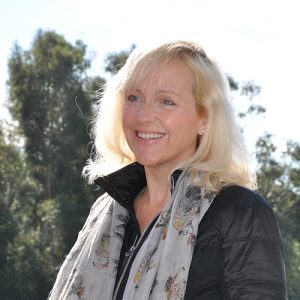 Elizabeth B. Hessami, JD, LLM (Environmental Law), is a licensed attorney and Faculty Lecturer of International Environmental Policy and Environmental and Natural Resources Security for Johns Hopkins University. She has served as a Visiting Attorney for the Environmental Law Institute (remote) for nearly a decade researching post-conflict natural resources management specializing in armed conflict and the environment. She is licensed to practice law by the Washington, D.C. and United States Supreme Court Bars.
Professor Hessami has served as a consultant on Afghanistan, natural resources, armed conflict, and peacebuilding. She was appointed in 2019 to serve on the IUCN World Commission on Environmental Law and is active in the Specialty Group on Peace, Security, and Conflict. Previously, she served as the Co-Chair/Vice-Editor of the International Environmental Law Newsletter (Section of Environment, Energy, and Resources) for the American Bar Association (2016–2017) and has received commendations for her research on Afghanistan from the World Bank Group. Her writings on Afghanistan have appeared in Foreign Policy, The Washington Post (via The Conversation), The Wilson Center for Environmental Change and Security, and The American Bar Association Publications. She was honored to be awarded The Johns Hopkins University-2021 "Excellence in Teaching Award".
Professor Hessami is interested in environmental justice issues at the global level such as the disproportionate impact of climate change on vulnerable populations and less industrialized nations, and the implementation of renewable energy sources in these nations. She was a founding member of the Environmental Peacebuilding Association for which she is currently producing content and serves on the Education Interest and Law Interest Groups. She has lectured on renewables in Afghanistan, The 2018 Afghan (former) Minerals Laws, Water Security in Central Asia, Afghan Emeralds and conflict minerals, and other topics on environmental security.
Sustainable Solutions Series Overview
The Sustainable Solutions Speaker Series is presented by the Environmental Sciences and Policy (ESP) and the Energy Policy and Climate (EPC) programs at Johns Hopkins University.
Each talk features scholars and practitioners working to tackle 'wicked' environmental, energy, and climate problems. Speakers take us through how they leverage technology, policy, the private sector, markets, research, and fieldwork to form innovative and lasting solutions. From water insecurity to climate adaptation, natural resource conflict to energy transitions, and food insecurity to sustainable agriculture, this series features the depth and breadth of Johns Hopkins University faculty and our greater community toward a sustainable future.