Sustainable Solutions - February 2023
Expanding Horizons with the NASA DEVELOP Program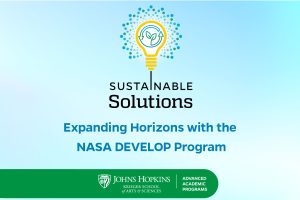 Over the summer of 2022, two Environmental Science and Policy (ESP) graduate students, Annie Britton and Makario Sarsozo, joined the NASA DEVELOP program and used NASA Earth observations to address diverse environmental issues impacting communities. Both students had the opportunity to work on different projects with multidisciplinary teams that focused on climate applications and incorporating National Centers for Environmental Information (NCEI) data. Join us to learn more about their projects and experiences with the NASA DEVELOP program.
Annie Britton is currently studying for an M.S. in Environmental Sciences and Policy (ESP) from Johns Hopkins University, after receiving her B.A. from JHU in 2019. During her time in the ESP program, Annie has worked on NASA-funded projects related to water resources, conservation, ecology, and extreme weather events. Her research interests lie in using Earth observations for applied research designed to inform conservation decision-making practices.
Makario Sarsozo is a storyteller and science communicator with over a decade of experience creating high-end, innovative content for broadcast and digital platforms. He is passionate about science communication and creating impactful content highlighting solutions to climate change and climate justice. Makario has worked as a freelance television showrunner, a communications fellow in the U.S. Senate, and as an environmental researcher with NASA's DEVELOP program. Makario is finishing his M.S. in Environmental Sciences and Policy at JHU in spring of 2023 with a focus on science communication and international policy.
Sustainable Solutions Series Overview
The Sustainable Solutions Speaker Series is presented by the Environmental Sciences and Policy (ESP) and the Energy Policy and Climate (EPC) programs at Johns Hopkins University. Each talk features scholars and practitioners working to tackle 'wicked' environmental, energy, and climate problems. Speakers take us through how they leverage technology, policy, the private sector, markets, research, and field work to form innovative and lasting solutions. From water insecurity to climate adaptation, natural resource conflict to energy transitions, and food insecurity to sustainable agriculture, this series features the depth and breadth of Johns Hopkins University faculty and our greater community toward a sustainable future.