Sustainable Solutions - December 2021 featuring Kate Henningsen
Please join us for a discussion on "How Energy Data Can Fight Climate Change" featuring Kate Henningsen of Arcadia.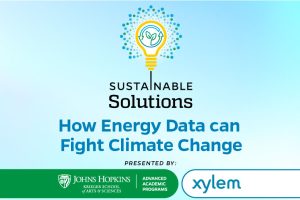 Every major industry has digitized data to innovate —except the energy industry. To this day, the industry has been slow to embrace technological change, remaining closed and outdated. As a result, utility data is incomplete, difficult to access, and lacking consistency in the way it is organized and shared. Without better access to utility data, it will be impossible to decarbonize the grid at the pace required to meet the challenges of climate change. Barriers to utility data access hamper smart energy solutions such as electrification, clean energy connections, and automations and optimizations for efficiency and cost-savings. To end the fossil fuel monopoly, energy innovators need access to utility data so they can create the products and services that will accelerate the path to a decarbonized grid.
Kate Henningsen is the Chief Operating Officer at Arcadia, a climate-crisis fighting tech company based in Washington, DC.