Stories That Matter - December 2021 featuring Max Song
Will ImpactNFTs Transform the Creative Space?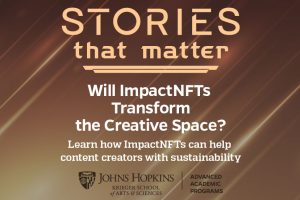 ImpactNFTs are the next evolution in sustainability solutions for content creators.
Non-fungible tokens have burst out of tight-knit cryptocurrency communities and into the mainstream. An NFT is a programmable unit of data representing a digital asset which secures and validates ownership. Each one is unique and can be tracked and verified for its authenticity on the blockchain.
Much of the media coverage surrounding NFTs spotlights artists fostering markets around their work or celebrities curating NFT drops tied to tangible rewards such as unique experiences, concert tickets, or memorabilia, as well as the carbon footprint associated with minting and transferring NFTs on certain blockchains. ImpactNFTs combine artistic creativity and tokenization technology with a clear mission to fund positive social or environmental impact.
In this workshop, we'll discuss how creators and organizations can use ImpactNFT metrics to help prioritize and publicize their drive to carbon neutrality and positive social impact. We'll share case studies and the ImpactNFTs from around the globe.
We hope you walk away with a clear roadmap as to how minting ImpactNFTs can help you execute robust social responsibility and outreach campaigns for your mission and vision.