Science Journalism, the COVID Beat, and the Next Pandemic
Although much remains uncertain about the pandemic, one thing is clear: COVID will have a lasting impact on the field of science journalism. In this panel discussion hosted by the Johns Hopkins Science Writing Program, a JHU public health expert, a Vox science editor, and a COVID beat reporter will wrestle with what we've learned, what science journalists can do better, and what to expect next.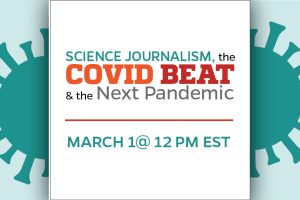 Topics they'll consider include:
How can reporters explain a grave risk without overplaying or underplaying its true severity? How can journalists best communicate uncertainties – what public health officials do NOT yet know? Should journalists report on research results that have not yet been vetted? In the torrent of data showing infection and death rates, how can journalists assure that the human story does not get lost? Has the media done a good enough job of telling the stories of the minority communities that COVID has hit particularly hard? Is there anything more that journalists and science communicators can do to get through to those who are convinced that public health information is a hoax/fake news?
In what is sure to be a vibrant, illuminating conversation, three guest panelists will discuss lessons learned from the coverage of COVID-19, and how to apply these insights when the next pandemic inevitably strikes.