Spring 2022 New Student Orientation
New Student Orientation for Advanced Academic Programs at JHU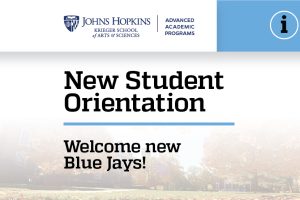 Congratulations on your recent acceptance to Johns Hopkins University Advanced Academic Programs!
To ensure that you have the resources and support you need to succeed in your academic program, we invite you to join us online for the New Student Orientation.
This live, virtual orientation will welcome you to the Blue Jay community and introduce you to the resources, faculty, and staff who will support you at Johns Hopkins. We recommend you plan to participate in your program-specific break-out session as well. Please refer to your email invite to ensure your program is holding a break-out session on 13 January 2022.