Life After the MLA Program
Join us as we celebrate the JHU MLA alumni's accomplishments!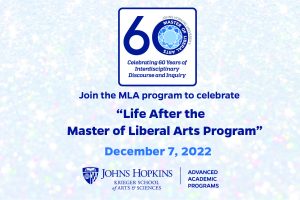 Founded in 1962, the Master of Liberal Arts at the Johns Hopkins University is celebrating its 60th anniversary. Come join Associate Director, Dr. Tristan Cabello, to celebrate the Hopkins MLA alumni's accomplishments. With its diverse student body, the Hopkins MLA is home to students from different backgrounds, with numerous academic interests and with varied professional careers.
Come learn more about how the MLA program has changed their lives and helped them pursue their professional and academic goals. Tristan will be joined by MLA Alumni: Ed Gillespie, Lisa Serice, Tiffany Nez, Carlos Littles and Brian Eckert.