MLA 60th Anniversary - Jazz Diplomacy
Jazz Diplomacy: Duke Ellington and Billy Strayhorn's Far East Suite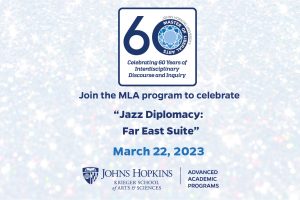 In 1963, at the height of the Cold War, Duke Ellington took his orchestra on a tour of Sri Lanka, Egypt, India, Iraq, Jordan, Lebanon, Pakistan, Iran, and Turkey as part of the State Department Jazz Ambassador tours. This tour eventually resulted in the masterpiece, The Far East Suite.
The Far East Suite work depicts a composer and musicians discovering another culture while bringing an African-American musical sensibility abroad in the midst of Jim Crow at home. In this session, Professor Matt Belzer will lead participants as they listen to excerpts from the suite while following visual cues. Discussion topics will include musical depictions of location and culture, the line between influence and appropriation, and the role of the arts in international diplomacy. Suggested text: Excerpts from Music Is My Mistress by Duke Ellington (Da Capo Press) and/or Beyond Category: The Life And Genius Of Duke Ellington by John Edward Hasse (Da Capo Press).
Anniversary program overview:
Founded in 1962, the Master of Liberal Arts at the Johns Hopkins University is celebrating its 60th anniversary. Come join Associate Director, Dr. Tristan Cabello, on a journey of celebration with the faculty and students of the Hopkins MLA program. With its diverse student body, the Hopkins MLA is home to students from different backgrounds, with numerous academic interests and with varied professional careers.