How Non-Historians Cherry-Pick Reality
Cherry-Picking Reality: Non-Historians and the Misuse of History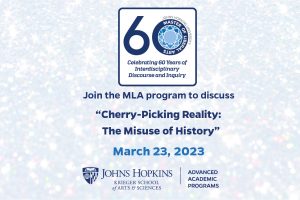 Many business experts use historical events or famous historical figures to validate their ideas. Most of them are not historians, and to sell their wares they need history to be simple, emotional, and certain. In this hour, Dr. Jay Ridler will examine cases where non-historians in the business and self-help industry have cherry picked data to create distorted versions of Dr. Martin Luther King Jr. and Wright Brothers introduced to millions of people around the world, and why no one seems to care.
Anniversary program overview:
Founded in 1962, the Master of Liberal Arts at the Johns Hopkins University is celebrating its 60th anniversary. Come join Associate Director, Dr. Tristan Cabello, on a journey of celebration with the faculty and students of the Hopkins MLA program. With its diverse student body, the Hopkins MLA is home to students from different backgrounds, with numerous academic interests and with varied professional careers.