Spring Series: Conversations with Marvin Kalb (2 of 3)
Conversation 2 of 3: April 14, 2023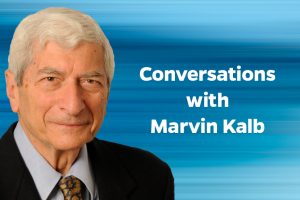 In sessions two and three of the series, long-time Osher instructor and seasoned journalist, Marvin Kalb takes on issues of today—offering audience members the opportunity to ask questions, offer perspectives, and share beliefs.
On April 14, Kalb will discuss democracy and military strategy with General Stanley McChrystal, one of America's great generals.
On May 5, Kalb welcomes General James Mattis, former Secretary of Defense under President Trump.
Marvin Kalb was senior advisor to the Pulitzer Center on Crisis Reporting (though he remains active), nonresident senior fellow at the Brookings Institution, Murrow Professor Emeritus at Harvard's Kennedy School of Government, and anchor of The Kalb Report, a four-times-a-year broadcast from the National Press Club about journalistic ethics and practice. Marvin was a diplomatic correspondent for CBS News and NBC News for 30 years. He hosted Meet the Press in the 1980s. In addition, he was founding Director of the Shorenstein Center on Press, Politics, and Public Policy at the Kennedy School. He is writing his 18th book, his latest being Assignment Russia: Becoming a Foreign Correspondent in the Crucible of the Cold War.
Osher Members
$40
Register Here: https://aapnoncredit.jhu.edu/wconnect/osher/CourseStatus.awp1?&course=23SE001
Non-Osher Members and Visitors
Attending 4/14 and 5/5: $50 ($10 membership fee + $40 event fee)
Register Here: Conversations with Marvin Kalb – 23SE001
The system will ask you to log in, or to create an account. Then, choose the Non-Osher membership for $10. In Box 3, click "Conversations with Marvin Kalb". Courses are listed in order by start date.
To sign up by phone call 667-208-8683 or email [email protected] for assistance.