Mapping a Monster: Part 4
Making Sense of COVID-19 Data through Geospatial Technology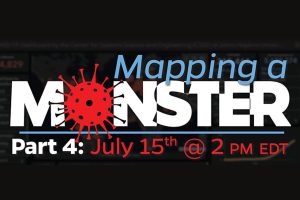 About this Event
The novel COVID-19 pandemic has already profoundly impacted the world in ways that have not been seen for generations and the full effects have yet to be quantified. Geospatial Technology plays a critical role in understanding and combating the virus threat. Learn how Geographic information Systems Technology (GIS) is being leveraged as a powerful data visualization and analysis tool for making science-based spatial decisions that have real-world consequences. Explore how COVID-19 epidemiology data, location intelligence, and map visualization technology are used to support a variety of pandemic web maps, graphs and applications used to raise awareness, inform public decision-making, and guide policy decisions on a global scale. Through this speaker series, attendees will gain an understanding of: cutting-edge geospatial practices used in epidemiology (past and present), the use and application of GIS on a global scale, the biological nuance of the Coronavirus, and how COVID-19 data can be and is used by city, counties, states and government to make critical decisions.
Part 4 will focus on the tracking and future changes for conservation perspective on COVID-19 data and how it influences conservation measures.
This the final webinar of a four-part series. We'll be posting recordings from the series on our YouTube channel.