The Leading Edge Presents Kevin Robinson on Leadership in Athletics
Join host Christopher Dreisbach for a curated conversation with Kevin Robinson, director of athletics for Catholic University of America, on leadership in athletics.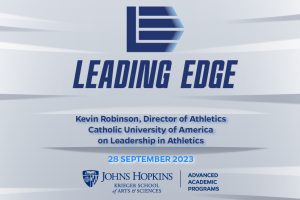 Robinson was introduced as the director of athletics/associate vice president at Catholic University on June 2, 2023. He came to the university with 24 years of experience in collegiate athletics under his belt, having most recently served as the associate director of athletics for advancement at Mount St. Mary's University. Robinson took over that role in September 2021 after spending six years as the director of athletic development at Mount St. Mary's. Robinson served the university in multiple capacities, including in university leadership initiatives, athletic development, athletic administration, external relations, and public relations.
Robinson served on the Strategic Planning Leadership Committee that developed Mount St. Mary's Strategic Plan from 2018-2023, creating the university's new mission, vision, core values, and strategic priorities.