Inside Intelligence - September 2022
Intelligence in the South China Sea: the Importance of Maritime Domain Awareness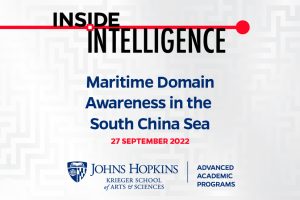 Join Dr. Michael J. Ard for a curated discussion with Dr. Christoper Merritt on, "Intelligence in the South China Sea: the Importance of Maritime Domain Awareness."
Dr. Chris Merritt has over twenty years of Maritime Domain Awareness (MDA) analytic, advising, and capacity-building experience. He has led efforts to produce in-depth operational and national level analytic products to support maritime law enforcement investigations and policy on matters ranging from terrorism and piracy to sanction violations and illegal fishing.
Dr. Merritt's analytic tours include the U.S. Coast Guard Intelligence Coordination Center, the Office of Naval Intelligence, the U.S. Indo-Pacific Command Joint Intelligence Center Pacific, and the Naval Criminal Investigative Service. Merritt also served as an Office of the Secretary of Defense Ministry of Defense Advisor (MoDA) for the U.S. Mission to the Association of Southeast Asian Nations, where he helped develop and promote multilateral MDA capacity-building programs in the region.
Dr. Merritt's academic credentials include an undergraduate degree in International Business and Master of Business Administration from Hawaii Pacific University and a Doctorate in Educational Leadership from the University of Southern California, where his research focused on organizational change and reform.