Inside Intelligence Presents The Foundations of American Intelligence
Join host Michael Ard for a conversation with Mark Stout, former director of the MA in Global Security Studies, on the Foundations of American Intelligence.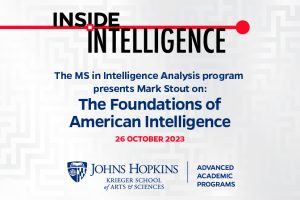 Mark Stout has taught in Advanced Academic Programs since 2007. From 2013 to 2021 he was the director of the Master of Arts in Global Security Studies and he directed the post-Baccalaureate Certificate in Intelligence from 2014 to 2019. Stout previously worked for thirteen years as an intelligence analyst, first with the State Department's Bureau of Intelligence and Research and later with the CIA. Stout also worked on the Army Staff in the Pentagon and at the Institute for Defense Analyses. In addition, from 2010 to 2013 Stout was the historian at the International Spy Museum in Washington, DC.
Stout is a series co-editor of Georgetown University Press' Studies in Intelligence History book series. He is a contributing editor at War on the Rocks and he was the founding president of the North American Society for Intelligence History from 2016-2019. He is the co-author or co-editor of several books and has published articles in The Journal of Strategic Studies, Intelligence and National Security, Studies in Intelligence, and Studies in Conflict and Terrorism. He has a book on American intelligence in World War I under contract to the University Press of Kansas.
Stout has degrees from Stanford and Harvard Universities and a PhD in history from the University of Leeds in the United Kingdom. His research interests include American intelligence history and military thought.