Inside Intelligence - November 2022 featuring Josh Kerbel
Join host Michael Ard for a curated discussion with Josh Kerbel on "complexity" and the challenge for intelligence analysis.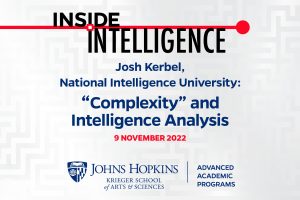 Josh Kerbel is a member of the research faculty at the National Intelligence University where he explores the increasingly complex security environment and the associated intelligence challenges.
Prior to joining NIU, he held senior analytical positions at DIA, ODNI (including the NIC), the Navy staff, CIA, and ONI. His writings on the intersections of government (especially intelligence) and complexity have been published in Foreign Policy, The Washington Post, Studies in Intelligence, Slate, The National Interest, The Hill, War on the Rocks, Defense One, Parameters, and other outlets. Mr. Kerbel has degrees from The George Washington University and the London School of Economics as well as professional certifications from the Naval War College and the Naval Postgraduate School. More recently he was a post-graduate fellow at the Massachusetts Institute of Technology.