Inside Intelligence: Lessons from the CIA's Analytic Front Lines
Former CIA Deputy Director Bruce Pease speaks on "Lessons from the CIA's Analytic Front Lines."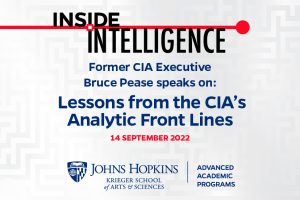 Join host, Dr. Michael J. Ard, for a curated conversation with Bruce Pease. Bruce E. Pease is a consultant on national security issues and the application of artificial intelligence, and he teaches leadership, ethics, and analysis.
For seventeen years, Pease led CIA's front-burner components, specializing in threats to US security and developing expertise in today's most pressing security issues. In the late 1990s, Pease led the CIA's Office of Near Eastern, South Asian, and African Analysis, providing key policy support during multiple crises in the Middle East. After the 9/11 attacks, Pease established and led the CIA's new Office of Terrorism Analysis and then became deputy director of the Counterterrorism Center. In 2004, Pease became director of CIA's Weapons Intelligence, Nonproliferation, and Arms Control Center, analyzing the threat posed by weapons of mass destruction and emerging military technologies. His service also includes work as part of the White House staff, when Pease was Director of Intelligence Programs on the National Security Council, as well as eight years of active duty in the US Navy.