Inside Intelligence - January 2022 featuring Nicolai Petro
Host Michael Ard leads Professor Nicolai Petro on a curated discussion of "The Tragedy and Healing of Ukraine."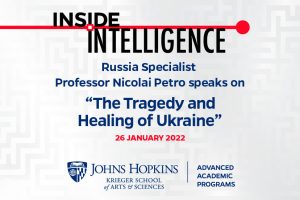 Petro served as a special assistant for policy in the Office of Soviet Union Affairs in the U.S. Department of State, and as a temporary political attache at the U.S. Embassy in Moscow. While in the Soviet Union he monitored local elections in Russia, Belarus, and Latvia. Petro later returned to Russia as a private citizen to serve as a staff consultant to the municipal research and training center Dialog, and advisor to the mayor of the Russian city of Novgorod the Great.
Petro was awarded two Fulbright awards, one to Russia in 1996 and one to Ukraine in 2013.
Petro's books include Crafting Democracy: How Novgorod has Coped with Rapid Social Change (Cornell, 2004), The Rebirth of Russian Democracy: An Interpretation of Political Culture (Harvard, 1995), and Russian Foreign Policy: From Empire to Nation-State, co-authored with the late Alvin Z. Rubinstein (Longman, 1997).