Inside Intelligence Presents Geospatial Intelligence: Tracking China's Nuclear Program
Join host Michael Ard for a curated conversation with Renny Babiarz, a Chinese nuclear weapons specialist and geospatial intelligence analyst.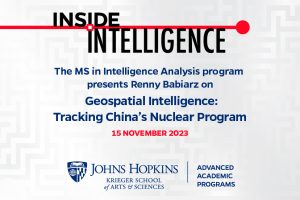 This talk explores general connections between geopolitics and geospatial disciplines, and then specifically shows how geospatial analysis can lead to important geopolitical developments. One common example of such a connection is the Cuban Missile Crisis, which blossomed into a crisis because CIA imagery analysts discovered ballistic missile bases under construction in Cuba. This led to a dramatic geopolitical confrontation between the U.S. and the Soviet Union.
Today, some of the world's most important geopolitical issues remain rooted in our knowledge of developments at specific locations on the earth. For example, recent developments at China's Lop Nur Nuclear Weapons Test Site suggest a dramatically new era of nuclear weapon testing and development is about to begin. This would have profound implications not only for geopolitics, but for life itself on Earth.
Renny Babiarz is vice president of analysis and operations for AllSource Analysis, where he manages geospatial intelligence analysis projects on security, economic, and artificial intelligence issues for government, non-government, and private-sector customers. He is also an adjunct faculty member for the Johns Hopkins MS in Geospatial Intelligence program. Babiarz has over 20 years of experience researching China's political and military systems, including 10 years of experience in the field of GEOINT analysis focusing on Asia and weapons of mass destruction. He has a PhD in political science, specializing in China's nuclear weapons program, from Johns Hopkins University; an MA in Asian studies, specializing in China, from University of Hawaii at Manoa; and certificates in Chinese language and GEOINT analysis. Additionally, Babiarz worked in public service as a GEOINT analyst for the National Geospatial-Intelligence Agency.