Inside Intelligence – April 2023
Chat GPT and Intelligence Analysis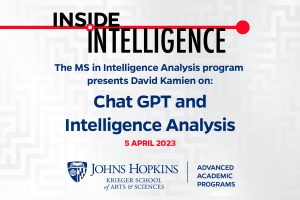 Join host Michael Ard for a discussion with intelligence analysis and AI specialist David Kamien on "Chat GPT and Intelligence Analysis."
David Kamien is the CEO and Founder of Mind-Alliance Systems, which builds custom intelligence and knowledge management solutions for global law firms, corporations, and governments.
Before founding Mind-Alliance Systems, David organized a conference on homeland security for the Israel Economic Mission to New York, consulted with Raytheon, Northrop Grumman, and Motorola, and worked at Marsh & McLennan. David also served as editor of The McGraw-Hill Homeland Security Handbook: Strategic Guidance for a Coordinated Approach to Effective Security and Emergency Management. At Mind-Alliance Systems, invented a collaborative intelligence analysis system and a patented method and system for modeling, analyzing, planning, and improving anticipated information flows across agencies, departments, companies, etc., and across different disciplines.
David has led engagements for The Center for Strategic & International Studies, The World Bank, The European Central Bank, The Rockefeller Foundation, The North Atlantic Treaty Organization (NATO), New York State Office of Emergency Management, DHS S&T (via SPAWAR), Raytheon, Everbridge, Fragomen, Ogletree Deakins, and Eversheds Sutherland.
David has published articles about security and knowledge management and has presented at conferences organized by the Office of the Director of National Intelligence (ODNI), the International Association for Intelligence Education (IAFIE – European Chapter), and the North Atlantic Treaty Organization (NATO). David received a B.A. in East Asian & General Studies from the Hebrew University of Jerusalem, and a law degree from the Academic College of Law in Ramat Gan.
For more information on the MS in Intelligence Analysis program please visit: