GIS After Dark - November 2021
Please join us on Thursday, November 4, 2021, at 7:00 PM EDT for GIS After Dark - November 2021.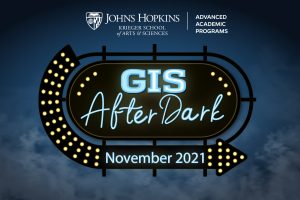 Jared Doke, Program Manager, and Tari Martin, GISP, will share how NAPSG is using cutting edge GIS and workflows to provide support during disasters with their mission to equip emergency management and public safety with knowledge, skills, and resources to apply decision-support technology and data in enhancing preparedness and building a more resilient nation.
The National Alliance for Public Safety GIS (NAPSG) Foundation is currently the only 501(c)(3) nonprofit organization that provides resources at no cost for the public safety community to help them implement effective solutions to common problems.