GIS After Dark: Mapping for National Security
Join host Cassandra Hansen and alumna Emily Long for a curated conversation discussing "Mapping for National Security."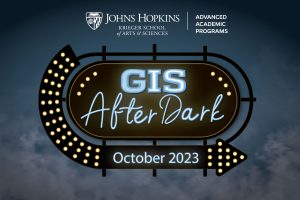 Emily Long has worked for several years as a D.C.-based defense contractor, tackling national security innovation, process engineering, and geospatial intelligence across the globe. Interfacing with the U.S. government, industry, and academia, Emily has provided program oversight to large-scale policy and STEM research projects. She currently supports projects with the National Geospatial Intelligence Agency and the U.S. Air Force, and has worked with the Defense Innovation Unit to connect national and allied military commands with up-and-coming technology innovators and entrepreneurs. In her current project with NGA, Emily works with students and researchers to refine topics and publish relevant research on www.Tearline.mil, providing insights on how to effectively create and utilize commercial satellite imagery and maps for a wide variety of national security efforts.
Emily received her Master of Science in geospatial intelligence from Johns Hopkins University and her Bachelor of Arts in psychology from Arizona State University. Emily is a recently published cartographer in the Esri Map Book, vol. 38, including her efforts on the disparities between genders in STEM pay and workforce allocation. She continues to provide volunteer GIS and mapping efforts through several agencies, as well as participating as a volunteer judge for international OSINT competitions.