Exploring How Video Games Create Spaces for Transformation
Ryan Green and Gabo Arora will discuss the future of the video game medium.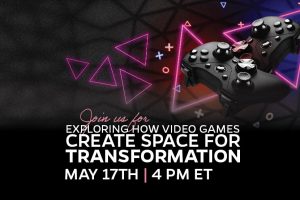 For over 40 years, the presiding cultural narrative is that video games are simply a means to escape the grind of life through play. Often they are derided as a mechanism to waste time, or a hobby best left to childhood. Ryan will recount how his own journey as a game designer led him to discover the transformative power of the video game medium through the creation of a videogame to memorialize his dying son. Through choosing to encode the echo of his son's life in videogame form, Ryan and his collaborators discovered that videogames can convey players into sacred spaces; spaces where players can mourn, find catharsis, examine deeply held convictions, and emerge transformed through their willingness to share in the suffering of others.
Ryan is a digital interactive artist, programmer, and video game designer currently focused on narrative VR, serious, and accessible games. The first decade of his career was spent as a UI/UX designer, programmer, and software architect for Davita Healthcare, a Fortune 500 company. Ryan currently serves as a Creative Director and Head of Narrative for Numinous Games, a studio he co-founded in 2012.
Numinous Games first title, That Dragon, Cancer, was created as a poetic memorial to Ryan and his wife Amy's third son Joel, and Joel's fight against terminal brain cancer. That Dragon, Cancer went on to receive broad critical praise, winning a BAFTA award in 2017 for innovation as well as a 2016 Peabody / Facebook Futures of Media award.