Expanding Our Universe: DEI and Science Communication
Expanding Our Universe: DEI and Science Communication.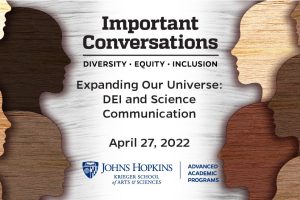 The field of science communication has a longstanding diversity problem. At this special event, four distinguished science journalists will discuss how this diversity problem leaves important scientific stories untold, why that should matter to everyone, and what we can do to make our newsrooms and science communication offices more inclusive and equitable.
The discussion will be moderated by Ashley Smart, Associate Director of the MIT Knight Science Journalism Program, and include the following panelists: Debra Krol (The Arizona Republic), Rodrigo Pérez Ortega (Science), and Justin Worland (TIME).
Following the discussion, audience members will be invited to ask questions to the panelists.
We hope you will join us for this important discussion.
This event is sponsored by the Johns Hopkins University MA in Science Writing program with support from a Diversity Innovation Grant awarded by the Johns Hopkins Diversity Leadership Council.