Engaging Economics Presents Taming U.S. Inflation: Is Victory in Sight?
Join us for a conversation with Laurence Ball, professor of economics at Johns Hopkins University, on prospects for U.S. inflation and the best course of action for the Fed. The conversation will be followed by a roundtable discussion with other experts.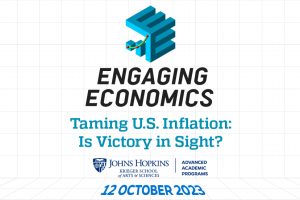 The U.S. Federal Reserve has raised interest rates 11 times since March 2022 to halt the advance of inflation. Is it time to declare victory? What should the Fed do at its next meeting—hold interest rates steady or hike them one more time to ensure a decisive win over inflation?
Professor Ball is one of the preeminent macroeconomists of his generation and an avid follower of the Fed—his 2018 book The Fed and Lehman Brothers was praised by The New York Times for questioning "orthodoxy, offering a more disturbing perspective on the past and a less sanguine prognosis for the future." He is also the program chair for the MS in Applied Economics and the MS in Financial Economics programs at Johns Hopkins.
This new webinar series will be moderated by Ou Hu, Program Director for the MS in Financial Economics program, and Prakash Loungani, Program Director for the MS in Applied Economics program. Hu was previously a professor at Youngstown State University and held the inaugural Paul J. Thomas Endowment Chair of Economics. Loungani was previously an assistant director at the International Monetary Fund and also worked for several years at the Fed.