Curated Conversations presents "Hard Conversations: Museums as Incubators for Civic Discourse"
Johns Hopkins president Ron Daniels recently wrote about universities as core institutions of democracy. Can museums also serve in that role?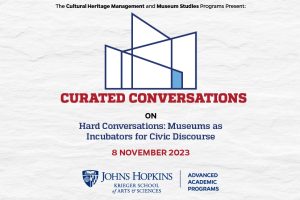 The Carter County Museum in Ekalaka, Montana, and the Presidio in San Francisco, California, may not appear to have much in common. Yet both institutions center sharing research and expertise around difficult topics. Both museums have created safe spaces for hard conversations. How can museums create and foster opportunities for civic discourse around issues that matter? Join us as we explore this vital topic.
Speakers:
Liz Melicker is an experienced museum professional with expertise in curatorial practice, including creative direction, research, content development, and collections management. She is the curator for the Presidio Trust in San Francisco, in the traditional territory of the Yelamu, a local tribe of Ramaytush Ohlone. Melicker leads the Trust's curation program, preserving and sharing the Presidio's collections with current and future generations. Public exhibitions at the historic Officers' Club highlight these collections and invite the public to consider how the park's history is relevant today through participatory, co-created experiences. Melicker has led award-winning exhibition projects recognized by the American Alliance of Museums and the Western Museums Association, including Operation Babylift: Perspectives & Legacies and EXCLUSION: The Presidio's Role in World War II Japanese American Incarceration. Melicker holds an Master of Arts in anthropology from Stanford University, and prior to joining the Presidio Trust in 2005, worked in cultural resource management in California and Hawai'i, her home state.
Dr. Sabre Moore is the executive director of the Carter County Museum in Ekalaka, Montana. Moore received her PhD in American studies with a focus in public history from Montana State University in 2023, a Master of Arts in museum studies and nonprofit management from Johns Hopkins University in 2016, and a Bachelor of Arts in history from Montana State University in 2013. Moore's research focuses on museums and rural community vitality, and how power is exercised in practices of place. Moore is the president of the Museums Association of Montana, chair of Visit Southeast Montana, serves on the Montana Governor's Tourism Advisory Council and is a site steward for Medicine Rocks State Park and the Bureau of Land Management in Carter County, Montana.