Excavating the Past and Engaging the Present at James Madison's Montpelier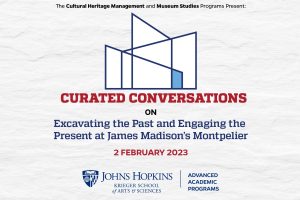 Who gets to tell the story of our founders? Who decides which stories matter in American history? What role do museums and historic sites play in telling those stories? These questions run through current political and cultural commentary. At James Madison's Montpelier, the staff and community wrestle with those questions daily. Working with the Montpelier Descendants Community, which represents the descendants of those enslaved by the Madisons, and with other thought leaders across the country, James Madison's Montpelier has developed new strategies for telling a more inclusive history of where we've been as a nation, and what that tells us about where we might be going.
Elizabeth Chew, PhD, will share her insights and experiences leading Montpelier through this path. Join us for a lively and timely conversation about how our past shapes our present.
Speaker:
Elizabeth Chew, PhD is the Interim President and Chief Executive Officer of The Montpelier Foundation, which operates James Madison's historic plantation in Virginia.
She was formerly Montpelier's Executive Vice President and Chief Curator, in which role she oversaw the Curatorial, Education, Archaeology, Preservation, and Research departments and the Robert H. Smith Center for the Constitution. An art historian, she holds a BA from Yale, an MA from the University of London, and a PhD from the University of North Carolina at Chapel Hill. She has worked at museums and historic sites since 1985. At Montpelier she has overseen the completion of the furnishing of the Madison house, the excavation and reconstruction of six slave dwellings and work buildings, and the creation of the exhibition The Mere Distinction of Colour, winner of six national awards. She has taught art history at the University of North Carolina, University of Virginia, James Madison University, Wake Forest University, and Davidson College and published and lectured widely on ways that art and architectural patronage relate to gender, race, and family politics.