COMMnections Presents "The Data-Minded Marketer"
Join Taylor Butts for a discussion about learning how to elevate your marketing by adopting a data-centric mindset.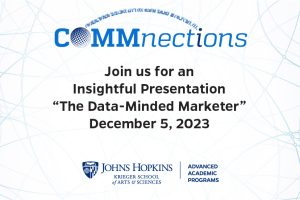 Data is the cornerstone of good marketing, and never in our history have we had as much data at our fingertips as we do today. To be successful in marketing, we need to be able to analyze the vast amounts of data that a brand has and extract actionable insights for developing and optimizing our marketing strategies. How do we go about doing that though?
In this webinar, Taylor will be walking through the reasons a data-centric approach to marketing is so important, the tenants of a data-minded approach to marketing, and where you can learn the skills and technologies to implement a data-minded marketing approach.