COMMnections – March 2023
Uniquely You: Building a Winning Personal Brand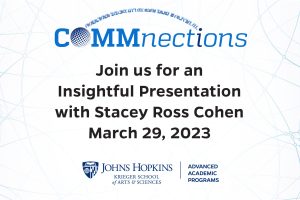 Want to stand out from the crowd and achieve professional success? To thrive in today's fiercely competitive, connected, and complex environment, you can't leave your personal brand to chance. Although it may seem that brands "just happen," actively crafting and communicating your brand message will help you achieve your career goals, grow your network, and secure opportunities that align with your passions and skills. Learning how to strategically take control of your message and articulate your value will help put you on top of a decision-maker's shortlist for jobs, promotions, sales pitches, and more.
Takeaways from this interactive session include clarity on how to develop a unique personal brand proposition and effective tools and tips to communicate your greatness. Attendees will receive a personal branding workbook.
Join host Patricia Hernandez and guest Stacey Ross Cohen for a discussion of creating a winning personal brand.
Stacey Ross Cohen is an award-winning brand professional who earned her stripes on Madison Avenue and at major television networks before launching Co-Communications. A TEDX speaker, Stacey is a contributor at prominent media outlets (Entrepreneur, Huff Post, Thrive Global). Stacey has been recognized as PRSA practitioner of the Year, City & State NY/Power 100, and Forbes Enterprise. She holds an MBA from Fordham University and a Media/Technology certificate from NYU Leonard Stern School of Business. Stacey's book "Brand Up: The Ultimate Playbook for College & Career Success" (Post Hill Press/Simon & Schuster) is slated for release in April 2023. Dedicated to empowering youth as future leaders, she advocates digital literacy as an essential skill for teens.